Doctor Who Adventures 179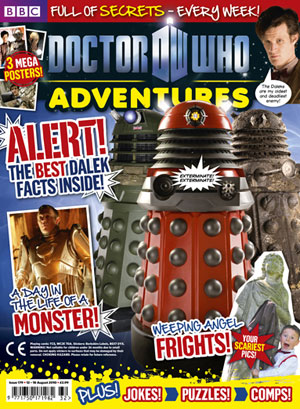 Doctor Who Adventures 179
This week's issue of Doctor Who Adventures comes with THREE brilliant gifts!
You'll get a whole pack of Dalek playing cards, a giant two-sided poster and loads of cool stickers.
Plus, if you're a lucky golden ticket winner, you'll win another gift!
Once you rip your mag out of its bag, you'll find loads of awesome stuff inside!
There's the ultimate Dalek guide to all the creepy pepperpots we've met (there's loads!), vital facts on the Doctor's sonic screwdriver, a terrifying travel guide all about Leadworth (avoid it at all costs!), exclusive info on what it's like being a Doctor Who monster, a yucky look at foul food (what snacks make you go 'ooh' and 'eew'?), a new comic adventure starring the Doctor and Amy and loads more besides!
What's more, if you find a lucky golden ticket inside your mag, you've won a mystery prize! It could be a cool Weeping Angel figure, a Doctor and Amy figure or even a remote-control 13″ Dalek Drone. Grab your mag now!
Doctor Who Adventures is out now (12 August)!
Don't forget to check out the Doctor Who Adventures new website www.dwamag.com to keep up to date with the very latest news from the Time Lord.