Doctor Who Adventures 178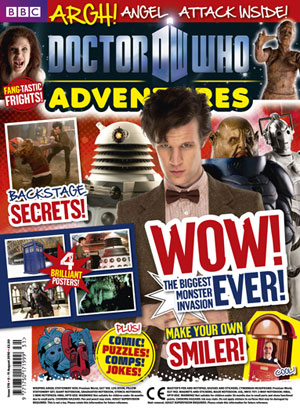 Doctor Who Adventures 178
With this week's issue of Doctor Who Adventures, you'll get an amazing Weeping Angels stationery set PLUS another cool mystery gift!Your favourite monster mag is bursting with exciting stuff.
Take a look at the huge group of creatures who tried to trap the Doctor in the Pandorica (can you remember them all?), find out who won our meanest villain award, pull out four amazing posters, relive the moment that the Doctor realised he and his friends were surrounded by Weeping Angels, check out a brand-new Who adventure in our comic and make your very own Smiler – they're easy to do and very creepy!
Don't forget to check out the Doctor Who Adventures new website www.dwamag.com to keep up to date with the very latest news from the Time Lord.
Doctor Who Adventures, issue 178, is out now (5 August)!