Doctor Who Adventures 177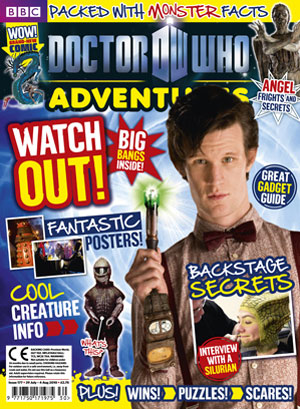 Doctor Who Adventures 177
This week, you'll get EIGHT amazing gifts with your magazine! There's a huge Pandorica poster, a Doctor Who beach football, a Cyberman mask, three cool monster postcards and two ace bookmarks – wow!If you can bear to put your gifts down for a second, and open the magazine, you'll find all kinds of Who treasures!
There are vital Pandorica facts, an amazing Vortex Manipulator gadget guide, a brilliant Doctor Who Live competition (you could win VIP tickets!), our DWA award for the biggest bang, an interview with a Silurian, a terrifying game to play with your mates based on The Lodger episode, awesome posters and loads more!
Doctor Who Adventures, issue 177, is out now (29 July)!
Don't forget to check out the Doctor Who Adventures new website www.dwamag.com to keep up to date with the very latest news from the Time Lord.