Doctor Who Adventures 171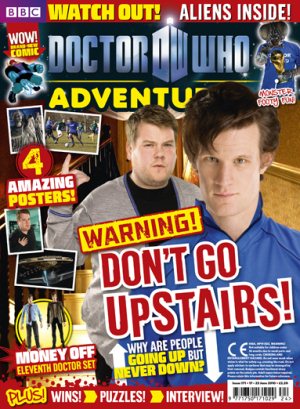 Doctor Who Adventures 171
The new issue is extra-exciting because it features the first part of our Doctor Who World Cup special – who will claim Earth, the Doctor Squad or the Monster Squad? Meet the Time Lord's team in this issue!
We've also got some sizzling secrets about the series 5 finale, an interview with Craig actor James Corden, a tough Weeping Angel quiz and an amazing new comic adventure.
Plus, we've got four brilliant new posters ready for your bedroom wall!
Issue 171 of Doctor Who Adventures magazine is out on Thursday 17 June, price £2.20
Don't forget to check out the Doctor Who Adventures new website www.dwamag.com to keep up to date with the very latest news from the Time Lord.
From The Doctor Who Adventures magazine website…
Coming soon (shhh!)

To mark the explosive end of series five, we're creating a collector's edition of Doctor Who Adventures magazine, which will feature our first ever 3-D cover – watch it move before your eyes!
We're working on it right now, but you can grab a copy on 1 July – not long to wait now! Inside this very special edition, you'll find the ultimate series 5 poster collection, a huge monster quiz, our first ever DWA awards, a Doctor Who World Cup game and loads of other awesome surprises.
It's all very top-secret, but we were bursting to tell someone about it! Watch this space for more details…