Doctor Who Adventures 170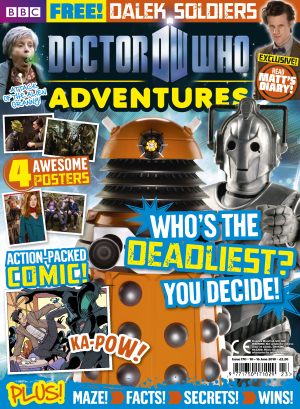 Doctor Who Adventures 170
Issue 170 comes with a free set of mini Daleks and is out now!
Inside, you can read about the attack of the alien granny (nasty Mrs Poggit and her third green eyeball), we challenge you to find your way round the Maze of the Dead without blinking, and you can check out what adventures lie in store for the Doctor this Saturday in our top-secret sneak preview of The Lodger!
All this, plus Matt Smith's exclusive diary from the set of Vincent and the Doctor (find out what was on his MP3), an exciting new comic, four awesome posters and some amazing comps. So what are you waiting for?
Issue 170 of Doctor Who Adventures magazine is out on Thursday 10 June, price £2.20
Don't forget to check out the Doctor Who Adventures new website www.dwamag.com to keep up to date with the very latest news from the Time Lord.