Doctor Who Adventures 168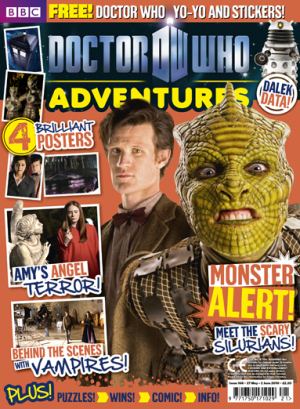 Doctor Who Adventures 168
With Amy on the verge of being dissected and an army of Silurians preparing to attack mankind, Doctor Who Adventures looks back at the best bits from last week's episode, The Hungry Earth.
And because we know you can't wait to find out what happens, we also give you a sneak peek at the second part of the Silurian story, Cold Blood.
Plus, there's a fascinating interview with actress Meera Syal, who reveals what she loved about being in Doctor Who, and we go behind the scenes on the Croatian set of The Vampires of Venice.
All this, plus:
– FREE Doctor Who Yo-Yo and stickers
– Four awesome Doctor Who posters
– A monster memory game
– Subscription offer – subscribe today and save an amazing 40%
Issue 168 of Doctor Who Adventures magazine is out on Thursday 27 May, price £2.20
Don't forget to check out the Doctor Who Adventures new website www.dwamag.com to keep up to date with the very latest news from the Time Lord.
Dr Who Adventures magazine has been shortlisted for an award!
The prestigious Maggies Awards celebrates the best magazine covers of the past year; and Dr Who Adventures was one of 40 covers that made it through the initial judging process. It's now up to the general public to decide who wins, so put a call out for all Dr Who fans to vote:www.themaggies.co.uk PLUS everyone who votes will receive a £2.50 gift voucher. The voucher may be redeemed against any of iSUBSCRiBE's entire range of over 1,350 magazine and newspaper subscriptions, including of course, Dr Who Adventures.