Doctor Who Adventures 166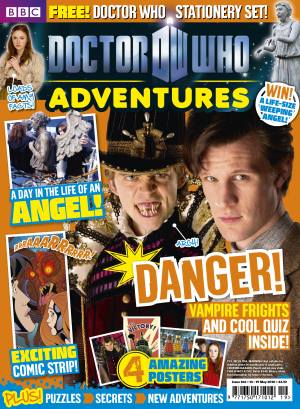 Doctor Who Adventures 166
With dangerous alien fish on the loose and fangs a plenty, Doctor Who Adventures looks back at an episode that had a real bite – The Vampires of Venice.With just weeks to go until the first Doctor Who Adventure Game, we look at what is in store and how you can help the Doctor defeat the Daleks and save planet Earth.
Want to know how they made the Weeping Angels? We go behind the scenes at The Time of the Angels and Flesh and Stone shoot and find out all the details.
We look at this week's episode, Amy's Choice. Find out what the Doctor discovers when he visits Amy and Rory five years in their future.
All this, plus:
* FREE Doctor Who stationery set!
* Win your very own life-size Weeping Angel
* 10 essential facts about Amy and Rory
* Subscription offer – subscribe today and get your first four issues for £1, then 25% off of a year's subscription
Issue 166 of Doctor Who Adventures magazine is out on Thursday 13 May, price £2.10
Don't forget to check out the Doctor Who Adventures new website www.dwamag.com to keep up to date with the very latest news from the Time Lord