Doctor Who Adventures 165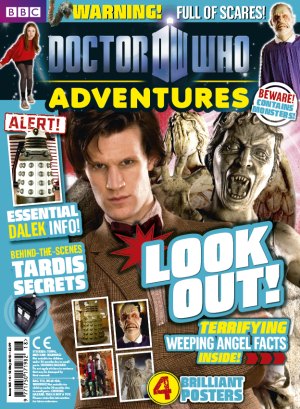 Doctor Who Adventures 165
It wasn't just Amy squeezing her eyes shut during last week's episode Flesh and Stone – Doctor Who Adventures looks back at all the frights in the Angel-packed episode.
Alex Kingston, who plays River Song, tells all about her mysterious character. Find out what she thought of Matt Smith the first time she met him and what she thinks River's secret is.
This week, Matt talks about the episodes with the Weeping Angels and how they were the first story he recorded in his exclusive diary.
We also go behind the scenes inside the TARDIS! Check out all the levers and gizmos in the Doctor's amazing spaceship.
All this, plus:
* Preview of episode six, The Vampires of Venice
* AMAZING Doctor Who bag!
* The chance to win your very own life-size Weeping Angel
* 10 terrifying facts about the Angels
* Subscription offer – subscribe today and get your first four issues for £1, then 25% off of a year's subscription
Issue 165 of Doctor Who Adventures magazine is out on Thursday 6 May, price £2.99
Don't forget to check out the Doctor Who Adventures new website www.dwamag.com to keep up to date with the very latest news from the Time Lord.