Doctor Who Adventures 162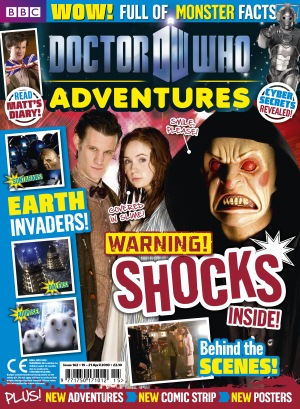 Doctor Who Adventures 162
MONSTER ALERT!
This week Doctor Who Adventures looks at the best bits from last week's episode, The Beast Below.
This week Matt reveals all about the filming of The Beast Below in his exclusive to Doctor Who Adventures diary.
Find out lots of interesting filming facts as Doctor Who Adventures visits the Doctor Who team as they film last week's episode..
Who needs the Doctor's help is this week's brand new adventure? Find out in this week's exclusive sneak peak at episode three, the Victory of the Daleks.
All this, and…
* 11 Free Doctor Who gifts!
* Cyberman Fast Facts
* Essential info on Earth Invaders
* Five fantastic posters
Subscription offer – subscribe today and get a FREE Monster Book!
Issue 162 of Doctor Who Adventures magazine is out Thursday 15 April, price £2.10