Doctor Who Adventures 159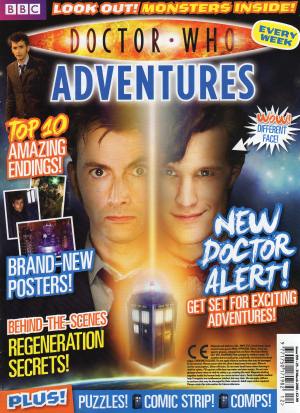 Doctor Who Adventures 159
This week, we say goodbye to the Tenth Doctor – and have a look at his fantastic final story, The End of Time.
You can also find out how David Tennant regenerated into Matt Smith in our special behind-the-scenes feature! When we return next week, prepare yourself for a new Doctor and a brand-new took to your favourite magazine! Well have everything you need to know about the new series of Doctor Who – and loads more!
If you are interested in subscribing to the Magazine go to the BBC Doctor Who Adventures page Here.
This week Doctor Who Adventures checks out the amazing 3-D trailer for the new series of Doctor Who. PLUS find out some sneaky secrets from the first six episodes!
We go behind the scenes with the Who crew to find out how they filmed David Tennant regenerating into new Doctor, Matt Smith.
Take a look back at the Tenth Doctor's final battle in this week's story guide. Rediscover the friends, the foes and the final moments before the regeneration began!
All this, and…
· Bumper gift pack with TWO great gifts
· Top 10 amazing endings!
· Brilliant final comic strip for the Tenth Doctor!
· Three fantastic posters
· Subscription offer – subscribe today and save over 40%
Issue 159 of Doctor Who Adventures magazine is out Thursday 25 March, price £2.99
Look out for next weeks new look issue with a free Tardis clock and start collecting tokens for your chance to win a Life Size Dalek