Doctor Who Adventures 158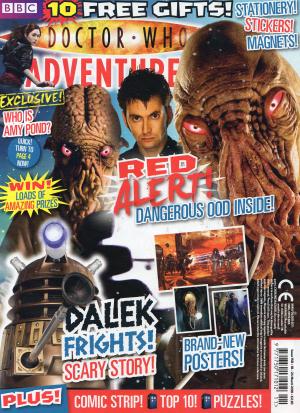 Doctor Who Adventures 158
This week Doctor Who Adventures meets the actress, Karen Gillan, who plays the new Doctor's companion, Amy Pond.
Find out if Karen is a Doctor Who fan, how she got the part and what Amy is like.
"She's a force of nature and really keeps the Doctor on his toes" – Karen on Amy
"She gets involved in this big adventure with the Doctor and it becomes very clear that she is an adventurer just like him" – Karen on Amy meeting the Doctor
This week there's a cool competition to celebrate David Tennant's time on Doctor Who.
You can win tonnes of Tenth Doctor goodies! Prizes include: life-size cut-out of David Tennant, books, DVDs, loads of figures, a David Tennant's t-shirt and a Flight Control TARDIS!
All this, and…
· Ten FREE gifts – stationary, stickers and magnets
· Find out how well you know the Ood in this week's quiz
· Three fantastic posters
· Subscription offer – subscribe today and save over 40%
Issue 158 of Doctor Who Adventures magazine is out Thursday 18 March, price £2.10
If you are interested in subscribing to the Magazine go to the BBC Doctor Who Adventures page Here.
Looks like were in for a logo change, look out for the news in next weeks issue…