Doctor Who Adventures 157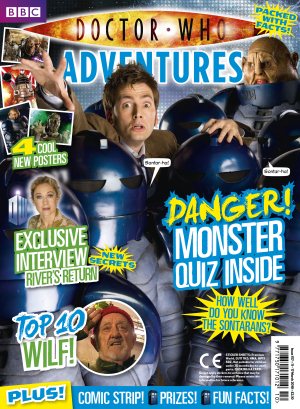 Doctor Who Adventures 157
RIVER RETURNS
Remember River Song, the Tenth Doctor's mysterious friend? She's coming back!
Alex Kingston, who plays her, tells Doctor Who Adventures all about it.
This week's story guide is about the animated episode of Doctor Who, Dreamland.
Find you what happens and who's who, in the adventure that sees the Doctor discover aliens at a secret military base.
If you are interested in subscribing to the Magazine go to the BBC Doctor Who Adventures page Here.
All this, and…
· FREE Doctor Who stickers
· Sontaran quiz
· The new series countdown begins!
· Subscription offer – subscribe today and save over 40%
Issue 157 of Doctor Who Adventures magazine is out Thursday 11 March, price £2.10