Doctor Who Adventures 152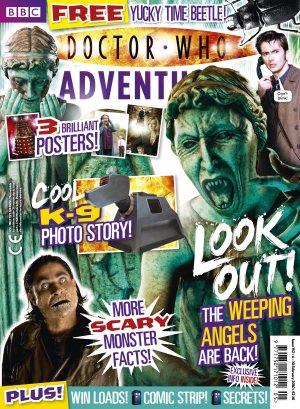 THE WEEPING ANGELS ARE BACK!
Be careful not to blink while reading this week's Doctor Who Adventures magazine because the Weeping Angels are in it!
The Weeping Angels are returning to Doctor Who where they will come face to face with the Eleventh Doctor. Find out how they kill and why they scare us so much in this week's issue.
You can also find out about creatures called the Flood. Discover what they are, what they want, and essential survival tips.
If you are interested in subscribing to the Magazine go to the BBC Doctor Who Adventures page Here.
All this, and…
· The chance to ask the new Doctor Matt Smith a question!
· The Master's Top 10 of evil deeds
· Three fantastic posters
· FREE Yucky Time Beetle
· Subscription offer – subscribe today get the first four issues for £1, and then 25% off of a year's subscription
Issue 152 of Doctor Who Adventures magazine is out Thursday 4 February, price £2.10