Doctor Who Adventures 149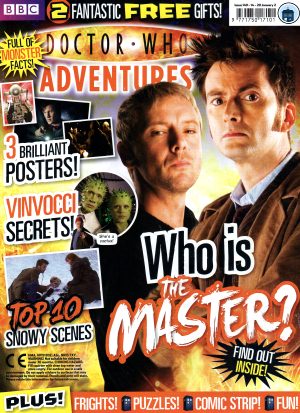 Who is the Master?
Have you ever wondered why the Master is so bad?
The Doctor has tried to help him in the past, but he continues to plot all sorts of dangerous schemes.
Read all about this troubled Time Lord in our fact-filled feature.
We've also got Vinvocci info, a quiz about The End of Time and we drop in on a cool scene from Dreamland. Talking of cool, check out the top 10 snowy scenes in Doctor Who, too.
We've also got a CD to give away to one lucky reader this week. The Sarah Jane Adventures: The Thirteenth Stone, a special story read by Elisabeth Sladen.
We need your help…
For a chance to win prizes and help us make Doctor Who Adventures even better-Join our new online reader panel and we'll send you some questions once a month.
Log onto www.bbcmagazineinsiders.com and sign up today!
Also in this issue…
* Who's Who Collection – Gadget
* Meanest Master Moments
* The End of Time Quiz
* Top 10 Snowy Scenes
* Who's Where – The End of Time
* subscription offer
and much much more
Issue 149 of Doctor Who Adventures magazine is now, price £2.10
If you are interested in subscribing to the Magazine go to the BBC Doctor Who Adventures page Here.