Doctor Who Adventures 147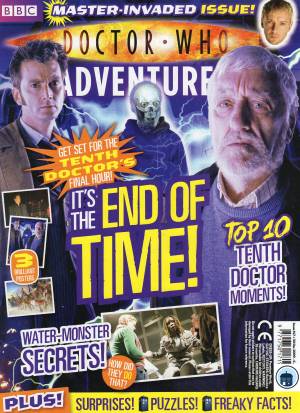 It's The End of Time!
Hello there! So we've now seen the first part of The End of Time and we're desperate to know what's going to happen to the Doctor!
We've all known for a long time that big changes are coming in this final story – so hold tight and get ready to enjoy the Tenth Doctor's last adventure!
This issue comes with a Tenth doctor dress up set and over 70 stickers.
See you next week for an extra-special regeneration issue, where you can see the Doctor change shape – on the cover!
See you then!
In this issue…
* Water – Monster secrets, How did they do that
* Top 10 Tenth Doctor Moments
* Three brilliant posters
* Free Cyberman stationary offer
* Win life size cut-outs
* Subscription offer – save over 40%
And much much more.
Issue 147 of Doctor Who Adventures magazine is out now, price £2.75
If you are interested in subscribing to the Magazine go to the BBC Doctor Who Adventures page Here.