Doctor Who Adventures 146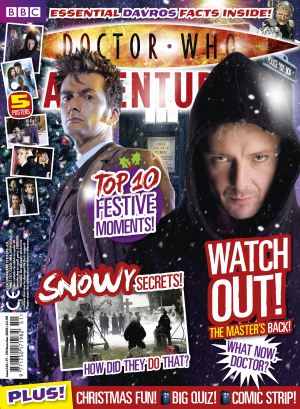 MONSTER CHRISTMAS PACK
This issue of Doctor Who Adventures comes with eight fantastic gifts – a 2010 calendar, two bookmarks, a hologram sticker sheet, three postcards and a scary mask of the Master.
Inside, Doctor Who Adventures reveals the Top 10 Christmas moments, there's a preview of The End of Time, the Tenth Doctor's final adventure, and an exclusive look at how the Doctor Who crew created a winter wonderland in the middle of July.
This week readers can claim five free Doctor Who magazine files.
They can also enter an extra-special competition to win a Doctor Who bedroom.
Plus readers can have a very merry Christmas with the big Christmas quiz and a festive comic strip.
All this, and…
· This week's Doctor's Data is all about Davros
· Five fantastic posters
· Subscribe today and save a fantastic 30% PLUS, get two FREE Doctor Who DVDs
Issue 146 of Doctor Who Adventures magazine is out Thursday 17 December, price £2.99
If you are interested in subscribing to the Magazine go to the BBC Doctor Who Adventures page Here.