Doctor Who Adventures 144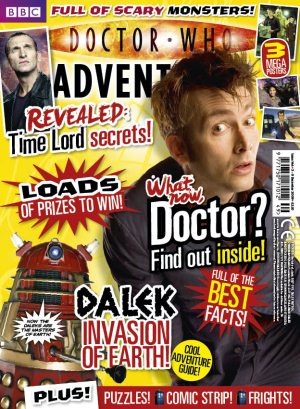 What now for the Doctor?
As the Tenth Doctor's time draws to an end Doctor Who Adventures answers some important questions! Who will knock four times? What is the Gate? Where is the TARDIS going next? And why did the Doctor see Ood Sigma and how can the Master be alive again? All the secrets and clues are revealed in this week's issue.
Check out Doctor Who Adventures magazine's favourite bits from the latest series of The Sarah Jane Adventure. This action-packed Top 10 features K-9, Slitheen and the Doctor himself, but who will come top?
Readers can get a fantastic 50% off a selection of Doctor Who books in an exclusive offer.
All this, plus…
· Look back at the history of the Doctor Who logo and see how they've changed
· FREE Doctor Who gift and The Waters of Mars stickers
· Find out about the Ninth Doctor
· Subscription offer – subscribe today and save a fantastic 30% PLUS, get two FREE Doctor Who DVDs
Issue 144 of Doctor Who Adventures magazine is out Thursday 3 December, price £2.10