Doctor Who Adventures 142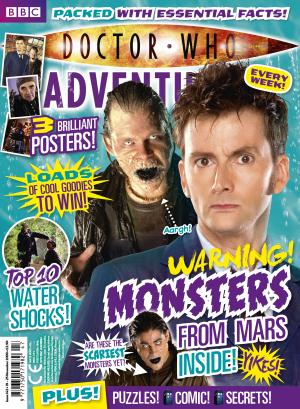 Monsters from Mars
This week's Doctor Who Adventures magazine is all about The Waters of Mars.
We investigate the planet Mars and find out if it is a place you should visit or avoid.
If you were to visit Mars with the Doctor what would you take? Find out with Doctor Who Adventures' essential checklist.
Meet the brave woman who helps the Doctor – Adelaide Brooke. Discover who she is and how she ended up at Bowie Base.
This week's Top 10 is all about watery moments. Water bombs, raining in reverse and sea monsters; who will come top in this slippery countdown?
All this plus…
· Find out how well you know The Waters of Mars in this week's quiz
· A Doctor Who note book and pencil
· Claim a free Dalek rucksack
· Part 1 of life-size Doctor Who poster
· Loads of cool goodies to win!
· Subscription offer – subscribe today and get two free DVDs
Issue 142 of Doctor Who Adventures magazine is out Thursday 19 November, price £2.99!
Become a Time Agent and get a Free weekly Email
Sign up to the Doctor Who Adventures FREE Time Agent newsletter and we'll send you an email telling you what we've been up to, some special Doctor Who facts and also what's in the latest issue EVERY WEEK.
To sign up go to The Doctor Who Adventures Site Here