Doctor Who Adventures 141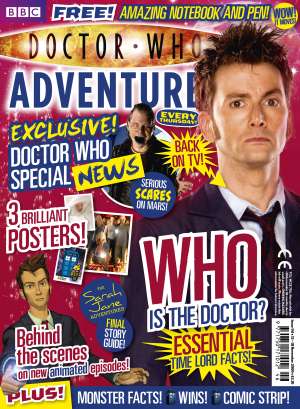 Waters of Mars… Get set for the return of Doctor Who on Sunday 15 November with this week's Doctor Who Adventures magazine. You'll get a sneak peak at this exciting new story, The Waters of Mars. And look out for pictures of some of the scariest monsters ever!
You can also find out all about the Doctor's new companion in this week's exclusive interview. Actress Lindsay Duncan tells Doctor Who Adventures all about Adelaide and why she's different from previous people who've teamed up with the Doctor.
Doctor Who Adventures is packed full of essential Time Lord facts! He is our favourite hero, but who exactly is the mysterious Time Lord? Find out all in this week's issue.
Also this week:
* Preview of the next episode of The Sarah Jane Adventures
* Three brilliant posters
* FREE Doctor Who notebook and pen!
· Subscription offer – subscribe today and save a fantastic 30% PLUS, get a Doctor Who – The Ultimate Monster Guide book FREE
Issue 141 of Doctor Who Adventures magazine is out Thursday 12 November, price £2.10!
Become a Time Agent and get a Free weekly Email
Sign up to the Doctor Who Adventures FREE Time Agent newsletter and we'll send you an email telling you what we've been up to, some special Doctor Who facts and also what's in the latest issue EVERY WEEK.
To sign up go to The Doctor Who Adventures Site Here