Doctor Who Adventures 140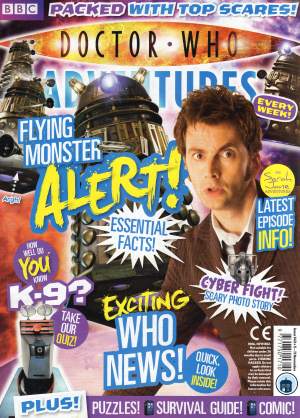 Wow – Flying foes!
We've got another amazing issue for you this week. There's loads of info about the Doctor's flying foesf a scary Cyberman sword fight story, a brand-new comic adventure and a cool K-9 quiz.
Fans of The Sarah Jane Adventures are also in for a treat – we preview the next two stories. You won't believe who she battles next! All that, plus three sheets of fab free stickers. Ge\ stuck in!
We've also got a copy of a scary Doctor Who CD to give away to one lucky reader this week. The Day of the Troll is a special story read by Tenth Doctor actor David Tennant. For your chance to win, tell us which :s page in this issue the Trickster is hiding on.
In This Issue…
*The Sarah Jane Adventures – Latest episode info
*Exciting Who News
*Flying Monster alert – Essential facts
*The Tricksters Tricky Puzzles
*Comic strip – Skydive
* Take the K9 quiz
and much much more…
Issue 140 of Doctor Who Adventures magazine is out now priced £2.10
Become a Time Agent and get a Free weekly Email
Sign up to the Doctor Who Adventures FREE Time Agent newsletter and we'll send you an email telling you what we've been up to, some special Doctor Who facts and also what's in the latest issue EVERY WEEK.
To sign up go to The Doctor Who Adventures Site Here