Doctor Who Adventures 139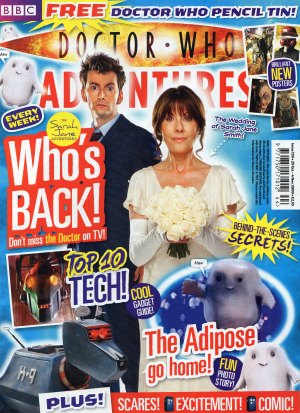 Hello there!
Don't miss the Doctor in this week's episodes of The Sarah Jane Adventured Something goes very wrong when Sarah Jane decides to get married, so it's just as well the Doctor appears. We were there, too, and this issue you can read our special report from the wedding! All this, plus posters, an adventure guide and loads more. Enjoy!
Would you like to win this fantastic new Doctor Who CD? The Day of the Troll Is an exciting adventure read by Tenth Doctor actor David Tennant.
For a chance to win, just tell us which page this angry Sontaran is hiding on! He's lurking where you'd least expect it, so don't give up if you can't find him!
Become a Time Agent and get a Free weekly Email
Sign up to the Doctor Who Adventures FREE Time Agent newsletter and we'll send you an email telling you what we've been up to, some special Doctor Who facts and also what's in the latest issue EVERY WEEK.
To sign up go to The Doctor Who Adventures Site Here
All this plus…
*Top 10 Tech – Cool gadget guide
*Behind the scenes secrets
*Photo story – The Adipose go home
*Story guide – midnight
*Comic strip – The Ghost factory
*Posters
and much much more…
Issue 139 of Doctor Who Adventures magazine is out now priced £2.10

Please note: There was no official press release this week so the above information was compiled by ourselves.