Doctor Who Adventures 133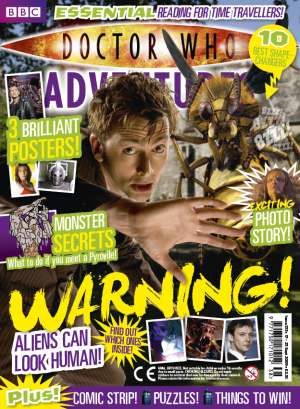 REVEALED: The ultimate shape-changer.
Doctor Who Adventures runs down the top 10 shape-changers, but who will come top?
Flash back to the 1920s for a monster murder mystery with this week's story guide: The Unicorn and the Wasp.
A murder investigation, a beastly bug and best-selling author Agatha Christie, the perfect combination for a great Doctor Who adventure.
This week's Doctor Data is Sarah Jane Adventures' Mr Smith – find out where he came from and how he once helped a shape-changing Slitheen!
Doomfinger features in this week's favourite scene as we go back to 1599 London and The Shakespeare Code.
All this and…
o Three fantastic sticker sets of your favourite Who characters
o Learn how to become a Time Agent
o 3 brilliant posters
o Puzzles and competitions – Doctor Who DVDs to be won plus other prizes and puzzles
o Subscription offer – subscribe today and save a fantastic 40%
Doctor Who Adventures, issue 133, priced £2.10, is in shops on Thursday 17 September!
Grab your copy today before it changes into another shape!
If you are interested in subscribing go to the BBC Doctor Who Adventures page Here.