Doctor Who Adventures 132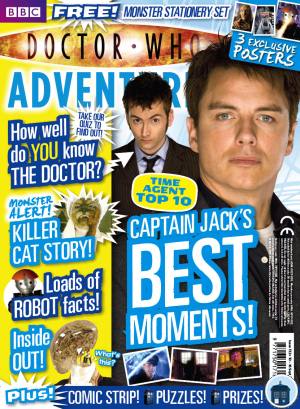 Top Time Agent!
This week we celebrate the coolest Captain in the Whoniverse – Captain Jack!
He may be a rogue Time Agent but he's also saved the Doctor's bacon plenty of times. This week, we look back at his top ten best moments and consider whether he really is destined to become the ancient Face of Boe.
The new issue is packed full of robots of all shapes and sizes, from Sarah Jane's metal mutt K-9 to the halo-hurling Host and the shape-shifting Kamelion. Read all about them in our special fact file. Sister Jatt gets zombified in this week's photostory and there's a brand-new comic adventure called Photo Finish.
Doctor Who Adventures comes with a free monster stationery set and three exclusive posters.
Plus…
o Tenth Doctor quiz – test how well you know this Top Time Lord!
o Who knows – your burning Who conundrums answered
o Inside out ­– find out what lurks behind the Clockwork Robots masks
o Comps ­– Win loads of goodies!
o Subscription offer – subscribe today and save over 40%
Doctor Who Adventures, issue 132, priced £2.10, is in shops now.
Miss it and face a monster makeover from Trine-E and Zu-Zana!
If you are interested in subscribing go to the BBC Doctor Who Adventures page Here.