Doctor Who Adventures 131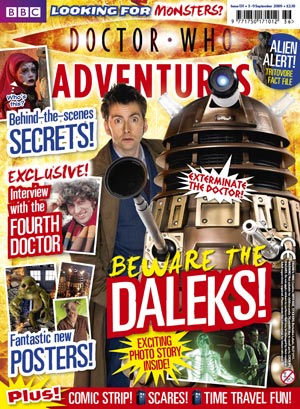 Looking for monsters?
You've been warned!
This week's issue of Doctor Who Adventures is packed with the yuckiest monsters in the universe!
Look out for facts and pictures of the Daleks, the Tritovores, Pig Slaves and many more…
Doctor Who Adventures talks to new companion Karen Gillan about her role in Who before she was cast as Amy Pond.
Plus, we chat to the Fourth Doctor, Tom Baker, about his new audio adventures and his time as the Time Lord.
The magazine comes with a set of free stickers of all the creatures you love, as well as Doctor Who photo frames, so you can turn yourself into a monster or the Doctor…
All this and…
o The top 10 Doctor Who quotes – Our favourite heroic sayings!
o Dalek attack photo story
o Posters
o Make the Dalek Crucible
o Top 10 children in Doctor Who
o Puzzles and competitions – great Doctor Who prizes could be yours!
o Subscription offer – subscribe today and save over 40%
Doctor Who Adventures, issue 131, priced £2.10, is in shops now.
Get your copy today!
If you are interested in subscribing go to the BBC Doctor Who Adventures page Here.