Doctor Who Adventures 129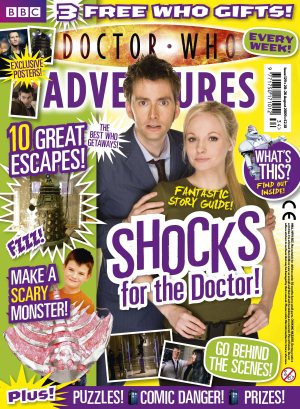 What are the greatest escapes in Doctor Who?
The Doctor and his friends have managed to escape from many great dangers during their exciting travels – and in this week's Doctor Who Adventures, there's a list of the ten best.
There's also a cool adventure guide to The Doctor's Daughter, the story that involved a big shock for the Time Lord!
This week's issue comes with a free monster note pad, stickers and a Doctor Who pen.
If you are interested in subscribing go to the BBC Doctor Who Adventures page Here.
All this and…
o Brilliant posters!
o A brand-new comic strip
o Meet a giant robot in a photo story
o Behind the scenes secrets – filming the theft of an ancient cup.
o Make a monster! How to create a Stingray.
o Puzzles and competitions – great prizes could be yours!
o Subscription offer – subscribe today and get a free Doctor Who DVD – The Cybermen Collection.
Doctor Who Adventures, issue 129, priced £2.10, is in shops on Thursday 20 August!
Get yours before the Stingrays eat them all up!