Doctor Who Adventures 128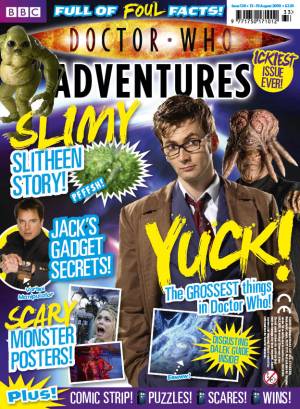 Looking for yucky monster facts and pictures?
This week's issue of Doctor Who Adventures is the YUCKIEST ever! There are loads of free stickers of the most hideous things in Doctor Who – everything from revolting Daleks to someone turning into an Ood.
Inside the magazine we look at the ten grossest moments in Doctor Who.
Prepare yourself for loads of horrors! And if you like Daleks, check out the fact file about the most disgusting ones.
If that's not enough, the issue comes with a free pot of Dalek slime. Touch the gooey-slimyness if you dare!
All this and…
Captain Jack's Vortex Manipulator guide
Slitheen shocks in a photo story
Puzzles and competitions – great prizes to be won!
Subscription offer – subscribe today and get a free Doctor Who DVD – The Cybermen Collection.
Doctor Who Adventures, issue 128, priced £2.10, is in shops from today!
It's so foul, you'll love it!
If you are interested in subscribing, or to see various offers on the Magazine go to the BBC Doctor Who Adventures page Here.