Doctor Who Adventures 127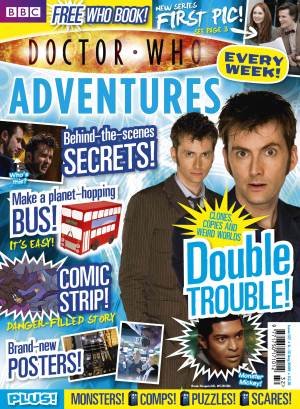 Free book with Doctor Who Adventures magazine
This week's issue of Doctor Who Adventures comes with a free Doctor Who Decide Your Destiny book.
Inside the magazine, you'll find the first picture of the Eleventh Doctor and his companion Amy Pond.
Check out the sneak preview of how they'll look as the pair start filming their new adventures together.
There's also a fact file about clones in the series and a top ten of doubles – everything from Rose the dog to copies of the Doctor himself.
Perfect for young Doctor Who fans!
All this and…
o Brilliant posters!
o A new comic strip
o The tricks behind doubles in Doctor Who
o Make a red bus like the one in Planet of the Dead!
o Rise of the Cybermen photo story
o Puzzles and competitions – great prizes to be won, including Doctor Who DVDs!
o Subscription offer – subscribe today and get a free Doctor Who DVD – The Cybermen Collection.
Doctor Who Adventures, issue 127, priced £2.10, is in shops from Thursday 6 August!
If you are interested in subscribing, or to see various offers on the Magazine go to the BBC Doctor Who Adventures page Here.