Doctor Who Adventures 126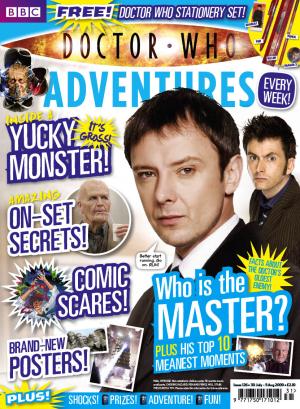 Who is the Master?
Find out all the fascinating facts you need to know about the Doctor's greatest enemy, the menacing Master, in this week's Doctor Who Adventures magazine.
The essential info will prepare Doctor Who fans for the return of the dangerous Time Lord later this year…
Doctor Who Adventures also gets you up close to a hideous new monster from the next special, The Waters of Mars. Could this be the scariest creature ever seen in Doctor Who – and more importantly, do you dare to look?
The issue comes with a free Tenth Doctor stationery set.
All this and…
o Brand-new posters!
o An exciting Doctor Who comic strip
o Look inside a hideous Toclafane
o Behind the scenes on the Valiant
o Play a cool game
o Last of the Time Lords photo story
o Puzzles and competitions – great prizes to be won!
o Subscription offer – subscribe today and get a free Doctor Who book – Monsters and Villains.
Doctor Who Adventures, issue 126, priced £2.10, is in shops from Thursday 30 July!
If you are interested in subscribing, or to see various offers on the Magazine go to the BBC Doctor Who Adventures page Here.