Doctor Who Adventures 122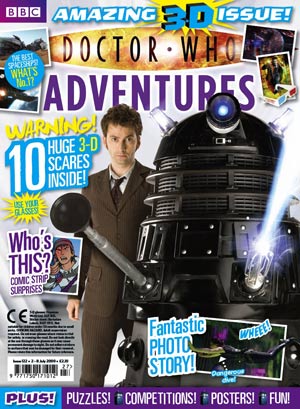 In this week's Doctor Who Adventures magazine…

… You will find some massive 3-D shocks in our incredible 3-D special! Just put on the free 3-D specs that come with the issue and you'll be amazed at what monster scares you'll find inside.
Also this week, we reveal the second winner of our comic companion reader competition. The Doctor and his current companion, Heather, will be joined by this new mystery person in an adventure called Flight of the Giurgeax.
Don't miss this week's free goodies – 3-D glasses, a giant double-sided 3-D poster and Dalek stickers.
All this and…
o Top 10 spaceships
o Monster facts
o Planet of the Dead photostory
o Comic-strip action
o Brilliant posters
o Puzzles and competitions – top prizes to be won!
o Subscription offer – subscribe today and get a fantastic Doctor Who book – Monsters and Villains.
Doctor Who Adventures, issue 122, priced £2.10, is in shops on 2 July.
Warning! The monsters in this mag will literally jump out at you!
If you are interested in subscribing, or to see various offers on the Magazine go to the BBC Doctor Who Adventures page Here.