Doctor Who Adventures 120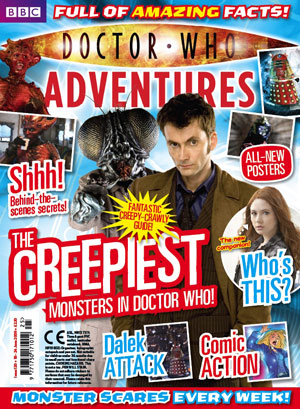 In this week's Doctor Who Adventures magazine…
… you'll find a guide to the creepiest monsters in Doctor Who. Did the Vespiform make your skin crawl and are you scared of the Time Beetle?
Then prepare yourself for some of the yuckiest insect creatures seen in the series.
Also this week, Doctor Who Adventures goes behind the scenes to look at the making of the Empress of the Racnoss.
If you are interested in subscribing, or to see various offers on the Magazine go to the BBC Doctor Who Adventures page Here.
All this and…
o Exclusive posters!
o News about the new Doctor Who companion, Karen Gillan
o Loads of facts
o Top 10 creepy humans!
o Photo story with Daleks from The Stolen Earth.
o Comic strip action
o Puzzles and competitions – cool prizes up for grabs!
o Subscription offer – subscribe today and get two free Doctor Who gifts.
Doctor Who Adventures, issue 120, priced £2.10, is in shops now. The issue comes with a cool free Doctor Who gift too!