Doctor Who Adventures 118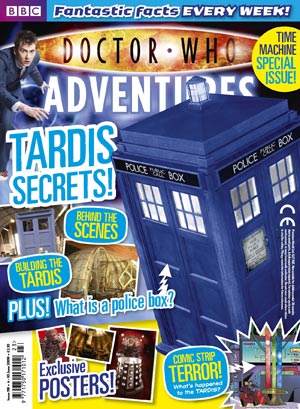 In this week's Doctor Who Adventures magazine you get two free gifts.
There's a Tenth Doctor mask (perfect for dressing up as the Doctor) and a cool Davros spinner (great for outside games!).
This issue reveals secrets about the TARDIS. Doctor Who Adventures goes behind the scenes to show how the inside of the ship was created and there's a fact file about the Doctor's famous time machine.
If you are interested in subscribing to the Magazine go to the BBC Doctor Who Adventures page Here where you will find various offers depending on how long a subscription you take.
All this and…
o Exclusive posters!
o What is a police box?
o Loads of facts
o TARDIS tales
o Comic strip action
o Puzzles and competitions – cool prizes up for grabs!
o Subscription offer – subscribe today and get a free gift.
Doctor Who Adventures, issue 118, priced £2.10, is out on Thursday 4 June. Catch it before it disappears into time and space.