50 Years in the Tardis Vinyl LP Soundtrack
ThinkGeek exclusive Cyberman edition on metallic silver vinyl
Available to order from www.thinkgeek.com
When we saw we had Doctor Who vinyl coming in, we assumed it was action figures. But no, it's music! It makes sense – after all, digital downloads and CDs were a thing of the future for Doctor Who when it began.

In fact in 1963, cassette tapes were the hot new thing that had just hit the market. You could record onto them, and many old clunky tape recorders were pressed up to the TV set broadcasting PBS late nights to capture the sounds of Doctor Who.
This Doctor Who: 50 Years in the TARDIS Vinyl Box Set presents, for the first time ever on vinyl, the very best and most iconic musical moments from the first 50 years of Doctor Who, 1963 through 2013.
It's a set of 4 albums packaged in a quad-fold jacket plus 16 page full color stapled booklet featuring extensive liner notes from Doctor Who composer Mark Ayres. It features 50 tracks, including the previously-unreleased "This Time There's Three of Us" from the 2013 special "The Day of the Doctor."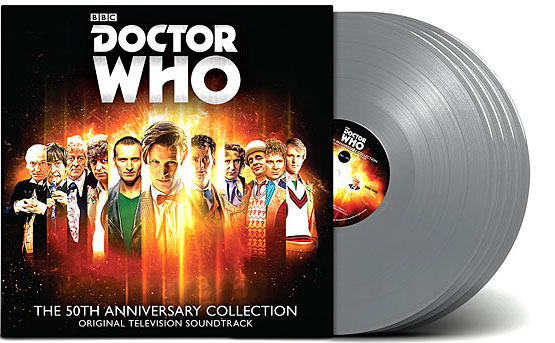 And if you get yours from ThinkGeek, your records will be metallic silver vinyl – the limited-edition Cyberman version, which you can only get here.
Product Specifications
Officially-licensed Doctor Who collectible
ThinkGeek-exclusive Cyberman edition on metallic silver vinyl
Edition Size: 1000
Four LP set packaged in a quad-fold jacket plus 16 page full color stapled booklet featuring extensive liner notes from Doctor Who composer Mark Ayres
Comes in a heavy board stock slipcover
50 total tracks
Contains multiple versions of the theme music over the years
Features the previously-unreleased bonus track "This Time There's Three of Us" from the 2013 special "The Day of the Doctor"