Doctor Who 2015 Symphonic Spectacular Merchandise
Various pieces of merchandise connected to the Doctor Who 2015 Symphonic Spectacular are available to order online.
The Collection includes The souvenir programme, t shirts, bags, mugs, wristbands, key-rings and more.
Available to order from www.themerchandisingshop.co.uk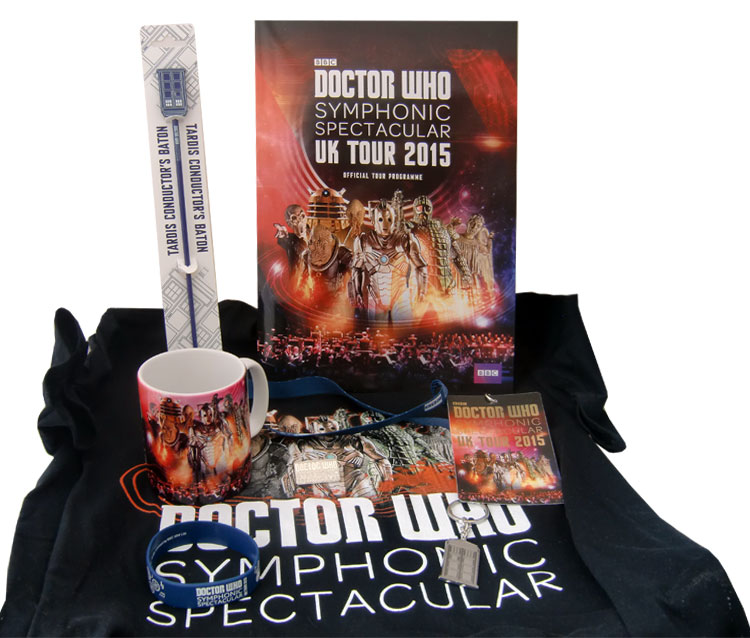 ---
Doctor Who Series 8 Soundtrack
Doctor Who: Series 8 will be the first soundtrack release of music from the twelfth Doctor Who, Peter Capaldi, featuring the new Doctor's theme A Good Man? (Twelve's Theme).
This 3 disc set also includes the music from the episode Last Christmas and an extensive 24 page booklet with notes from Murray Gold. The score is performed by the BBC National Orchestra of Wales, Murray Gold (computer instruments, guitars and synths) and conducted by Ben Foster and James Shearman.

Available to order from iTunes UK (previews available)

Available to order from iTunes USA (previews available)
---

Available to order in the UK from www.bbcshop.com

Also available to order in the UK from www.amazon.co.uk

Alternatively available to order in the UK from www.silvascreenmusic.com

Available to order in the USA from www.amazon.co.uk