Destiny of The Doctors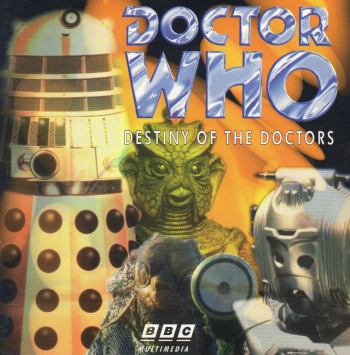 Destiny of The Doctors
PC CD Rom
The Master holds the seven incarnations of the Doctor as prisoners in a vast combat arena.
He must be challenged.
You are the challenger – the Graak – an electro-telepathic entity created by the Doctor. Succeed, and the tables are turned on the Master.
Fail and the Doctors, and Graak, are removed from space and time forever.
Features:
Daleks, Cybermen, Sea Devils, Zygons and more . . .
City of Thoughts database – 600 entries with J text, stills, audio and video
original video of all seven past BBC Doctors " specially shot video and newly recorded audio
28 mind-bending quests i seven action-packed challenges
up to 20 hours of play – The more you play, the harder it gets!
There are some corners of the universe that have bred the most terrible things. They must be fought – and defeated!
Doctor Who – Destiny of the Doctors: The Story
The game is set in the orbit of the planet Siralos, one of the Seven Thousand Wonders of the Galaxy. Siralos is composed entirely of malleable psychic energy, which has been hijacked by the Master, allowing him to physically merge his TARDIS with the Doctor's.
Using the energy of Siralos, the Master has captured the first seven incarnations of the Doctor, scooping them out of their own time streams and placing their semiconscious forms at the far end of a vast combat arena known as the Determinant.
You are the Graak, an energy-dependent, amorphous plasma matrix with telepathic links to the Doctor. It is your mission to release each incarnation of the Doctor, one at a time, via intelligent gameplay, physical and mental dexterity, and some working knowledge of Doctor Who mythology.
People not familiar with the mythology shouldn't worry – everything you need to know is easily accessed via the in-game Monster Database (located in the Master's TARDIS) or the Doctor's TARDIS Log, also known as the City of Thoughts (accessible from the Doctor's Console Room).
But be warned, your energy is not limitless and will deplete at various rates depending on your status; slowly when you are at rest – or quite rapidly when you are facing monsters or using either the Monster Database or City of Thoughts.
You will encounter ten of the Doctor's most fearsome enemies, all of which interact with you and respond to your movements with intelligent behaviour and, where appropriate, speech. You must find ways to disable them without losing too much energy.