Death Comes to Time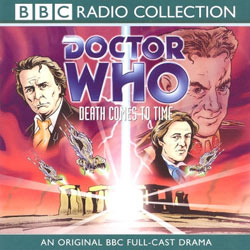 Death Comes to Time
When a dissident Time Lord group inadvertently caused the destruction of an entire civilisation through interference, its members vowed to repent by serving the Universe not as gods of Time but as mere men. Many years later, this peaceful resolve is severely tested when two of their number are killed … and the Doctor's seventh incarnation becomes embroiled in the struggle against the apparently unstoppable General Tannis.
Plagued by ominous portents, the Doctor and his companion Antimony must race across the Universe, taking in the Santine Republic, the Great Orion Nebula and the frozen heart of the Canisian Empire. Meanwhile the mysterious Minister of Chance battles his own inner demons, and former TARDIS traveller Ace finds herself in training for a destiny she never dreamed possible. Matters reach a terrible climax when Tannis' next target for subjugation is identified. Exactly how much is the Doctor prepared to sacrifice in order to save Earth?
Sylvester McCoy, Stephen Fry and John Sessions star in an explosive, action…packed adventure in five episodes specially created for audio.