Darksmith Legacy Collected Party
Darksmith Legacy Collected Party
The End of Time by Justin Richards is out on Thursday and to celebrate this Penguin Books are holding an exclusive Darksmith Collected Party for fans who have collected all 10 books and completed the quests online.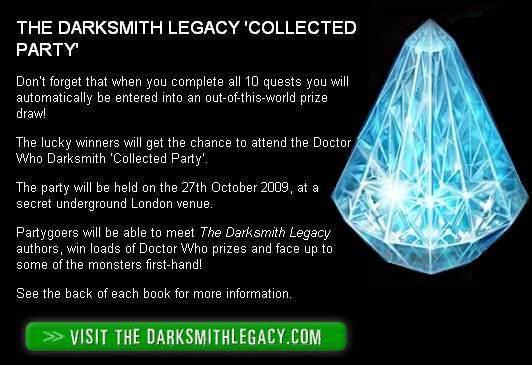 All players who complete the final quest will automatically be entered into a free prize draw to win tickets to this amazing event where they can meet the authors, come face to face with some very scary monsters and even get an exclusive sneak-preview of things to come…!
From Penguin group news
"This has been the most fantastic project that everyone should be proud of. Not just Justin and his team of writers, but everyone who worked on the web side of things, the design, covers, everyone at Penguin. Thank you for making such a good product that we can all be proud of." Gary Russell Script Editor, BBC Drama
"The Darksmith activity will culminate in October when 100 lucky fans will win the chance to attend a Collected party at a top secret location for a fantastic Doctor Who extravaganza."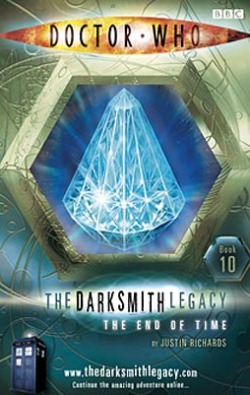 The Darksmith Legacy Book 10
Justin Richards
The End of Time
This is the final book in the series.
The Krashoks commissioned the Darksmith Collective to fashion a device that creates life.
The Krashoks, after waiting for centuries, have finally had their contract fulfilled.
They intend to detonate the Eternity Crystal unless the Doctor can stop them.
To make matters worse, Gisella is trapped on board the Krashoks' ship.
Can the Doctor save Gisella and destroy the Eternity Crystal once and for all?
To join the Quest you can register at the Darksmith Legacy Website Here or for more on the books visit our information page Here