The Doctor's Regenerations Deluxe Enamels
The Doctor's Regenerations Deluxe Enamels – 50th Anniversary Collector's Edition
Celebrating 50 years of Doctor Who – the ultimate collection of deluxe, hand-crafted enamels, plated with precious 22ct gold!
Available exclusively from www.danburymint.co.uk
Fifty years since Doctor Who was first aired, this exclusive collection of 22ct gold-plated, metal enamels pays tribute to each and every Doctor – from the very first, William Hartnell… to the new twelfth Doctor, Peter Capaldi!
Exclusive to Danbury Mint and officially authorised by the BBC, you won't find this collection in any shops.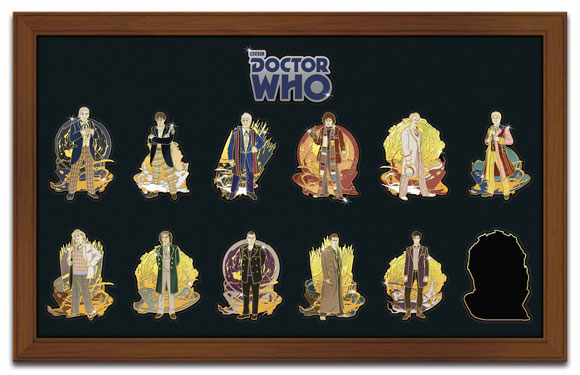 The deluxe enamels are superbly detailed and richly plated in precious 22ct gold … and each measures almost 3" (7cm) tall! What's more, each of the eleven (soon to be twelve!) Doctor designs have been individually hand-enamelled to capture their unforgettable features and character. This collection perfectly represents the remarkable contribution each Doctor has made to the show and will be appreciated by the biggest Doctor Who fan!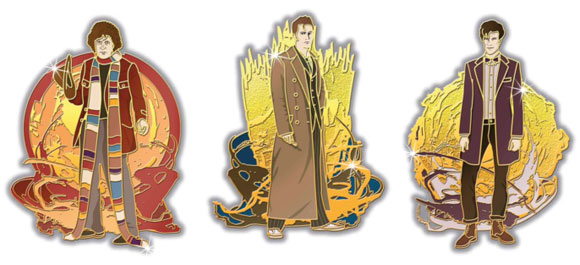 What's more, so you can show case your enamels to full effect, we're offering a custom-made display frame completely FREE of charge! This wooden display frame is perfect for protecting your collection and can be easily mounted on any wall. And remember… it's yours FREE if you respond now.
The display frame is 16½" (42cm) wide x 10½" (26.5cm) tall.
The enamels will be issued at the rate of two a month.
Each is priced at just £19.95 (plus 95p postage & handling).