Danbury Mint Doctor Who Chess Set
Danbury Mint Doctor Who Chess Set
The Danbury Mint Chess set is now highly collectable. Once you had subscribed two chess pieces were sent out every other month at a cost of £15.45. Expansion sets were also issued covering right up the the TV Movie with Paul McGann. Below is the cover and information from an original promotional leaflet. The set has not been available for some time.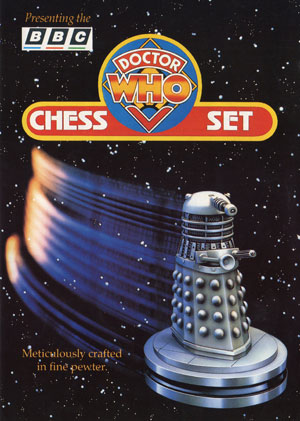 Doctor Who is the world's longest running sci-fi television series.
Since the very first episode was shown in November 1963, the Doctor's breathtaking adventures have enthralled viewers for three decades. Aided by his heroic companions, his crusade against the most evil forces in the universe has become legendary.
Now, for the first time ever, these fabulous characters are brought together in the unique "Doctor Who Chess Set". Brilliantly represented in solid pewter, this superb collection recreates the epic battles between good and evil – the intrepid Time Lord locked in combat with his most powerful foes Taking their places for this mighty encounter we present:
Heroes of the conflict
The Doctor, a Time Lord who left his planet Gallifrey to explore the farthest reaches of the universe. K9, the electronic dog with a computerized brain. Leela, the Doctor's assistant – a fearless warrior who would face the most formidable danger without a moment's hesitation. The Tardis, the famous police call box used by the Doctor as his time machine.
The Doctor's infamous enemies
The Master, a renegade Time Lord who would stop at nothing to reach his goal – the total domination of time and space. The Daleks, created by Davros in the laboratories of Skaro, became the most feared of the Doctor's enemies. The Cybermen, metal robots with nothing left of their original humanoid form but their evil minds.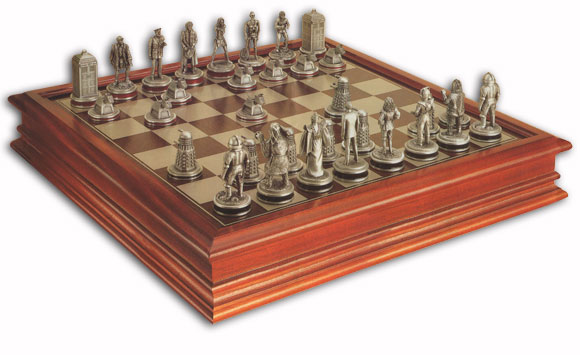 The complete cast of Doctors
During his dramatic expeditions through time and space, the Doctor has survived no less than six regenerations, appearing in seven different images. As part of this magnificent thirty-eight piece chess set we present all of these seven Doctors, recreated in exquisite detail, to delight the most avid Doctor Who fan. Each mission can then commence with any King, chosen from these seven, as the defender of the universe.
Finely sculpted pewter
Each character in this superb set is expertly recreated in solid English pewter. The detail in each sculpture is magnificent. Each piece is an object of art in its own right. This is truly a chess set to enjoy – both as a game and as a work of art.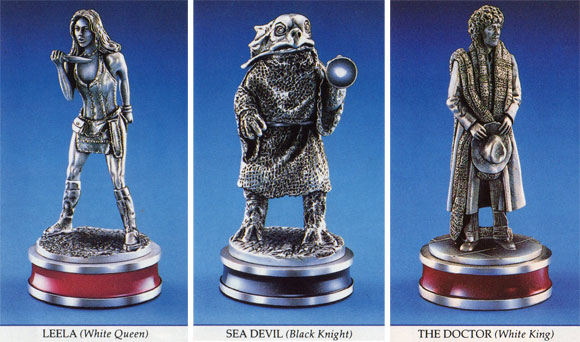 Elegant craftsman-made playing board
To complement your chess set, you will receive a handsome playing board at no extra cost. Crafted from carefully selected woods, it also contains each of the thirty-eight pieces in its own lined compartment for protection. In addition, every subscriber will receive a booklet which provides fascinating information about each character in the set.