Cult Conversations: Katy Manning DVD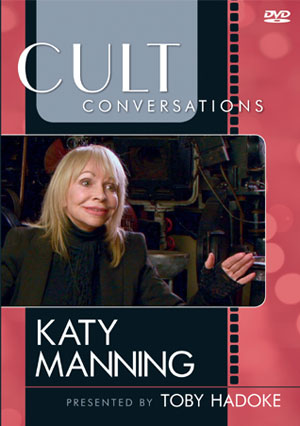 KATY MANNING is known to audiences the world over for her role as Jo Grant opposite Jon Pertwee's Doctor in Doctor Who.
Outside of this iconic series Katy's life has literally taken her round the world.
From uprooting and moving to Australia with her children in the late seventies, writing her remarkable one woman show in LA, through West End shows and the Edinburgh Fringe, even hosting her own chat show, this is the story of a lady who lives life to the full.
More than just interviews… these are CULT CONVERSATIONS
Available to buy from www.amazon.co.uk
CULT CONVERSATIONS is an exciting range of DVDs featuring icons of British screen and television, presented by television aficionado TOBY HADOKE.
Series One includes interviews with Valerie Leon, Katy Manning, Tom Adams, John Carson, Fenella Fielding and Terry Molloy.
You can see the full range of Cult Conversion DVD's on www.amazon.co.uk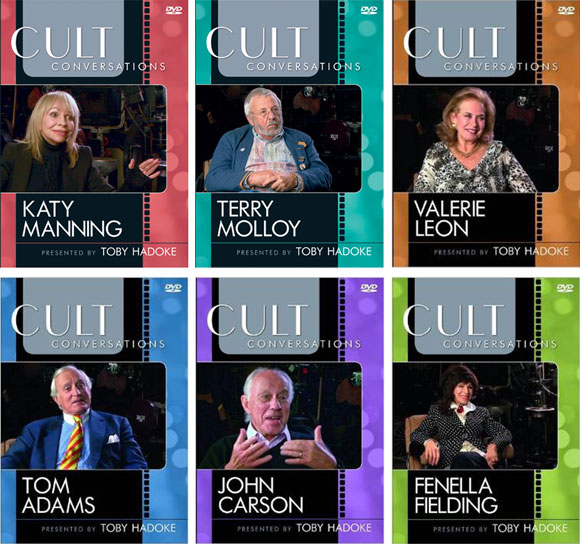 ---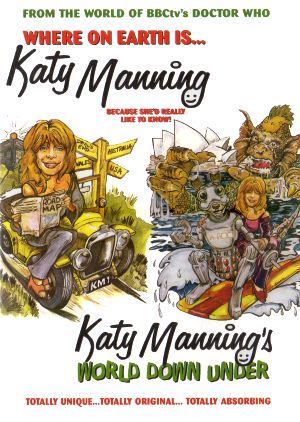 Where on Earth is katy Manning DVD
By her own admission, KATY MANNING is "as blind as a bat" and never knows where she'll end up. When she suddenly arrived in the UK, KATY was probably as surprised as the rest of us!
Determined to thank the legion of DOCTOR WHO fans who had written and supported her during her years abroad, KATY embarked on a whirlwind tour of British conventions and shops before leaving (yet again) for Australia…
Along the way bump into NICHOLAS COURTNEY, RICHARD FRANKLIN, JOHN LEESON, SOPHIE ALDRED, SYLVESTER McCOY, MICHAEL SHEARD and other surprise guest stars!
Also contains Katy Manning's world down under…
Have you wondered what it's like being a star i from DOCTOR WHO living in Australia? Almost the only star in fact!
That's exactly the life KATY has led for the last 20 years (off and on) and you wouldn't believe the things she gets up to! Well probably you would! In this absolutely, totally and utterly unique production, KATY: Interviews LOUISE PAJO, SUE WILLIS, ROBERT KITTS and KEFF MCULLOCH at an Aussie DOCTOR WHO convention.
She gives us a whirlwind tour of Sydney. Introduces us to the best friend who was her flatmate during DOCTOR WHO. Embarrasses her children again! Persuades her partner, Aussie legend BARRY CROCKER, to step in front of the camera with her. Takes a sideways look at DOCTOR WHO fandom in Australia. There really is only one KATY MANNING…Thank God! This World is too small for any more!
Available to buy from www.amazon.co.uk
---