Commemorative solid Sterling silver 1oz ingot – Pictures
Commemorative solid Sterling silver 1oz ingot
To celebrate the 50th Anniversary of the BBC's Doctor Who in 2013, Harlequin Goldsmiths has created a collection of Limited Edition Sterling silver and 9ct gold statuaries, together with a range of jewellery for both ladies and gentlemen.
Our own images of this rather nice piece of Merchandise…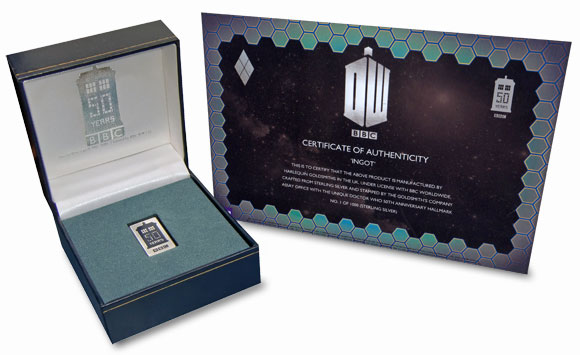 Harlequin Goldsmiths design and produce bespoke and limited edition ranges of unique gifts which include figurines, models, collectibles and themed jewellery, celebrating landmark occasions and milestones, providing clients with the rare opportunity to possess something truly special.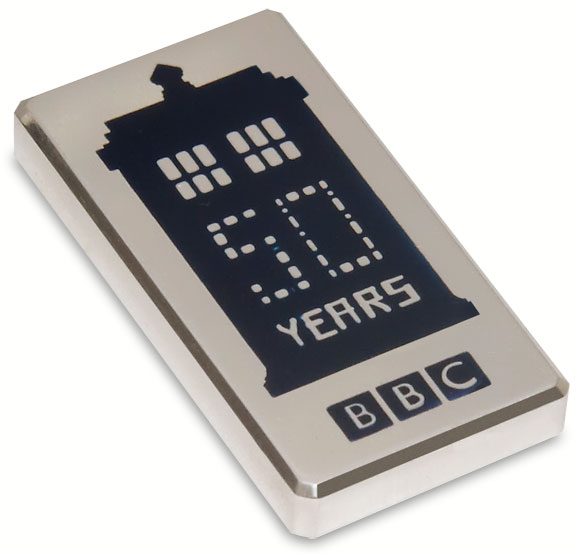 In January 2013 they launching a Limited Edition collection of Doctor Who jewellery and precious metal statuaries, licensed by BBC Worldwide Limited. These include cufflinks, tie pins and business card holders, as well as exact replicas of prominent characters and props crafted from Sterling silver and 9 carat gold.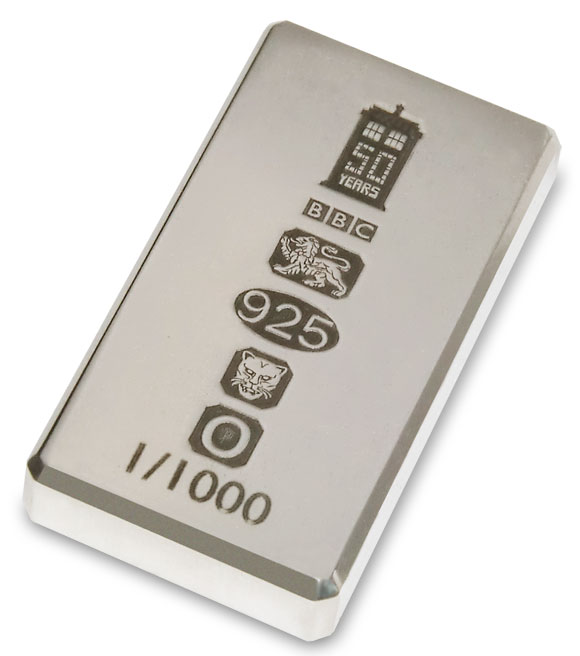 Each piece produced in 2013 will be stamped with the 50th Anniversary Doctor Who Hallmark in celebration of the anniversary year. This is the first time that the Goldsmiths' Company Assay Office has given permission for an iconic trademark to form part of a London hallmark.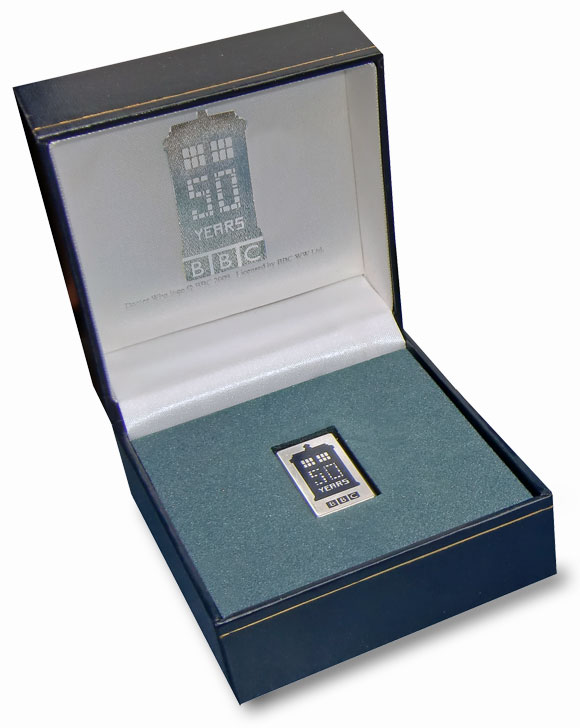 Please note screen prices DO NOT include UK VAT
To order this, or other items in the range please visit www.harlequingoldsmiths.com
Commemorative solid Sterling silver 1oz ingot with bevelled edges displaying the 50th Anniversary logo enamelled in TARDIS blue.
Dimensions: approximately 34mm x 18mm x 5mm.
Each piece bears the unique 50th Anniversary hallmark and comes in a presentation box with a Certificate of Authenticity. Please note: this product is limited to an edition of 1000 pieces.