Commemorative Solid 9ct Gold 1oz ingot
Commemorative solid 9ct gold 1oz ingot
Please note screen prices DO NOT include UK VAT
To order this, or other items in the range please visit www.harlequingoldsmiths.com
Commemorative solid 9ct gold 1oz ingot with bevelled edges displaying the 50th Anniversary logo enamelled in TARDIS blue.
Dimensions: approximately 34mm x 18mm x 5mm.
Each piece bears the unique 50th Anniversary hallmark and comes in a presentation box with a Certificate of Authenticity. Please note: this product is limited to an edition of 500 pieces.
Prices are exclusive of VAT.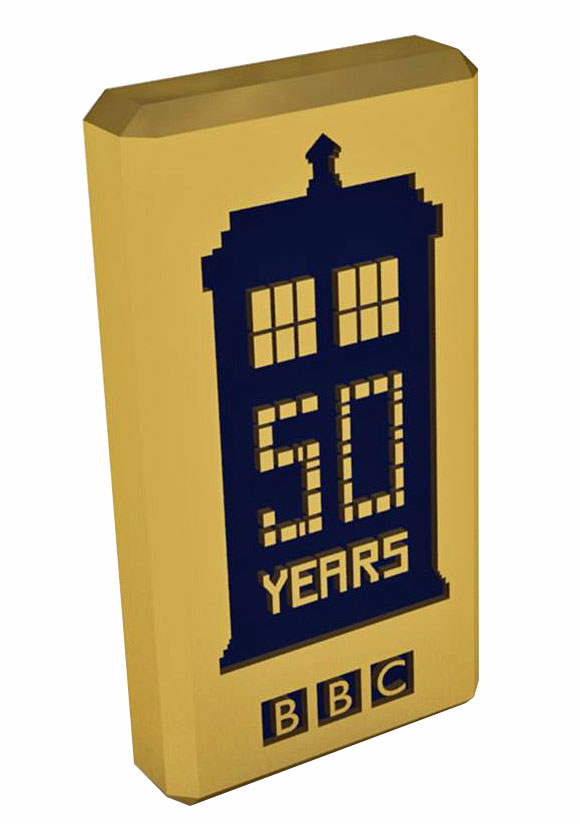 Release schedule
March 2013 – Ladies' Jewellery
Release of the Ladies' Jewellery range in tribute to all of the women who have travelled with The Doctor
April 2013 – Sonic Screwdriver
Release of the Sonic Screwdriver statuaries to mark the occasion of its first appearance in 'Fury from the Deep' starring Patrick Troughton broadcast from 16 March to 20 April, 1968.
May 2013 – Cyberman
Release of the Cyberman statuaries to celebrate their reintroduction in 'Rise of the Cybermen' starring David Tennant broadcast on 13 May, 2006
June 2013 – Gentlemen's Jewellery
Release of the Gentlemen's Jewellery range in tribute to all The Doctors.
July 2013 – Executive Toy
Release of the Executive Toy Chess Set to mark the occasion of the first encounter and battle in the show's forty-three year history between the Daleks and the Cybermen in 'Army of Ghosts' on 1 July, 2006 and 'Doomsday' on 8 July, 2006.
August / September / October 2013 – General Sales
November 2013 – Chess Sets
Release of the Small Chess Set and Large Chess Set to celebrate the first ever episode which aired on the 23 November, 1963.