Doctor Who DVD – The Daemons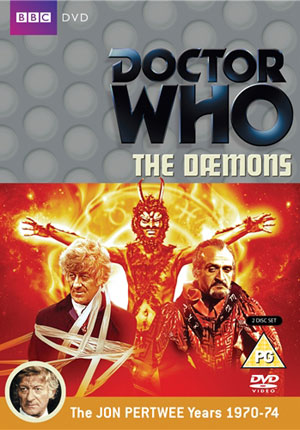 Doctor Who DVD – The Daemons
Staring Jon Pertwee, Katy Manning and Roger Delgado and The master.
Released on 19th March 2012.
In the peaceful village of Devil's End something very strange is happening.
A professor is preparing to open a nearby burial mound and a local white has foresees death and disaster.
Meanwhile, the new vicar looks suspiciously like the Master and he is using black magic to conjure up an ancient Dæmon.
Can the Doctor, Jo and UNIT stop their old enemy before he succeeds?
Special features…
*Commentary
*The Devil Rides Out Cast and crew talk about the making of the story.
*Remembering Barry Letts A look at the life and work of Barry Letts.
*Location Film A mute amateur 8mm film shot in the village of Aldbourne during the location filming.
*Colourisation Test The original colourisation test version of episode one from 1992.
*Tomorrow's World An article on the technology used in the restoration.
*Radio Times listings
*Programme subtitles
*Production information subtitles
*Photo gallery
*Coming soon trailer
*Digitally remastered picture and sound quality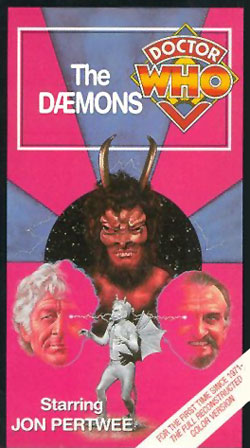 Original VHS Cover (left)
Synopsis from the official BBC site…
The Doctor becomes alarmed on seeing television coverage of an archaeological dig by a Professor Horner into an ancient barrow near the village of Devil's End.
He hurries to The Master is posing as the local vicar, Mr Magister, and using black magic rituals to summon Azal, the last of a race known as the Dæmons, whose miniaturised spaceship is buried within the barrow. Benton and Yates arrive in a UNIT helicopter but, before the Brigadier and his troops can join them, a heat barrier appears and cuts the village off from the outside world.
Azal will appear three times and on the last of these occasions will decide whether to transfer his awesome powers to another or to destroy the planet as a failed experiment.
Of other interest(long out of production)…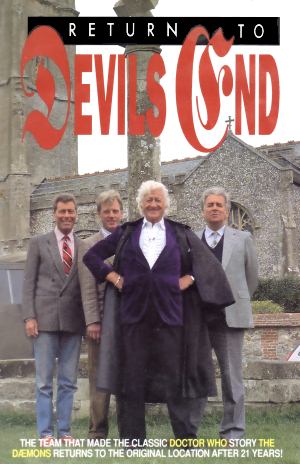 A mythmakers presentation – Return to Devils End
Regarded by many DOCTOR WHO fans as the best all round Jon Pertwee story, THE DAEMONS featured the village of Aldbourne as its central location.
In this special production, presenter NICHOLAS BRIGGS has brought leading cast members & director Christopher Barry to Aldbourne where they recount memories of shooting DOCTOR WHO during one of its most popular periods.
Together with unseen photographs and amateur film of the original shoot, this video will make an invaluable addition to any fan's collection and provides an in-depth look at the making of DOCTOR WHO in the 1970s.
"RETURN TO DEVILS END has been in various stages of planning for over eight years, getting the actors together in one place at the same time has proved to be an organisational feat worthy of UNIT itself and has only happened because of the dedication and hard work of the stars and production staff to whom I am most grateful.
We would all like to dedicate this video to the memory of Roger Delgado and Peter Grimwade who were part of an era in Doctor Who that I grew up with and adored. If, in this production, we have managed to recapture any of the magic from that time I am content."
This is one of only 500 limited edition copies of Return to Devils End signed by the cast.