Doctor Who Planet of the Spiders DVD
Planet of the Spiders DVD
The Doctor Who classic story Planet of the Spiders is due for release on DVD during 2011. This the 3rd Doctors final story. 2entertain revealed the 2011 DVD release schedule in Doctor Who Magazine issue 430.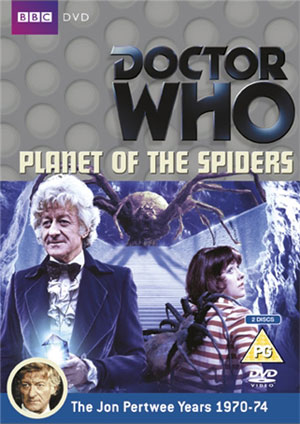 Planet of the Spiders
At a Tibetan retreat in the English countryside, a group of men are using ancient meditation rituals to tap into a mysterious alien power.
They unwittingly create a bridgehead between Earth and Metebelis 3, a planet where the 'Two Legs' are oppressed by giant spiders. The creatures are desperate to recover the blue jewel that the Doctor gave to Jo Grant as a wedding gift.
Now the Doctor must risk everything and return to Metebelis 3 to face the awesome power of The Great One, who plans to use the crystal to enslave all of human kind…
Released on 18 April 2011
Special Features:

• English Subtitles for the Deaf and Hearing Impaired
• Audio Commentary
• The Final Curtain
• John Kane Remembers…
• Directing Who with Barry Letts
• Now & Then
• Wogan
• 'Planet of the Spiders' Omnibus Edition
• Omnibus Trailer
• Photo Gallery
• PDF materials: Radio Times Listings
• Production Notes Subtitle Option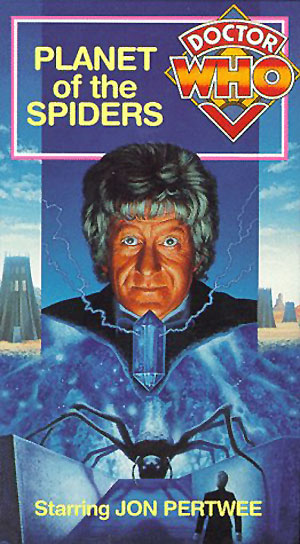 Original VHS cover
Details from the BBC episode guide.
Sarah is invited by Mike Yates to visit him at a Buddhist meditation centre where he has been staying.
A group of people there, led by a man named Lupton, are misusing the meditation rituals in order to make contact with powerful alien forces, which manifest themselves as a giant spider.
The spider is an emissary from the ruling council on the planet Metebelis 3, sent to recover the blue crystal that the Doctor previously found there and that has now been returned to him by Jo.
The Doctor and Sarah journey to Metebelis 3 and aid its human colonists in an attempt to overthrow the 'eight legs'.
They then return to Earth in the TARDIS. The Doctor recognises the meditation centre abbot K'anpo as his former Time Lord guru and, at his prompting, returns to Metebelis 3, where the humans' revolt has ultimately failed. He demands an audience with the Great One – a huge mutated spider revered by the others – and offers her the crystal.
The Great One uses it to complete a crystal lattice, which she believes will increase her mental powers to infinity. Instead, the rising power kills her. The other spiders also die as their mountain explodes. K'anpo has meanwhile been killed while protecting Yates from an attack by the spider-controlled residents of the meditation centre, only to be reborn in the form of his assistant Cho-je – his own future self.
Some weeks later, the Doctor is brought back to UNIT HQ by the TARDIS, having been fatally affected by the radiation in the Great One's cave. K'anpo appears and, with his help, the Doctor regenerates.