Doctor Who The Reign of Terror DVD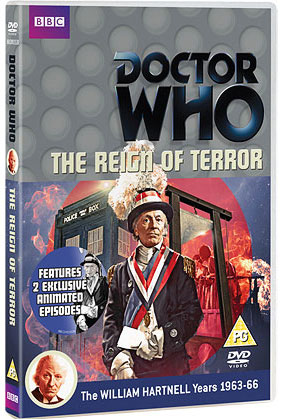 Doctor Who The Reign of Terror DVD
Release date: 28/01/2013
The TARDIS materialises not far from Paris in 1794 – one of the bloodiest years following the French Revolution of 1789.
The travellers become involved with an escape chain rescuing prisoners from the guillotine and get caught up in the machinations of an English undercover spy, James Stirling – alias Lemaitre, governor of the Conciergerie Prison.
The Doctor – posing as a Regional Officer of the Provinces – is twice brought before the great tyrant, Robespierre himself, and has to talk himself out of trouble.
Ian and Barbara, meanwhile, have a close encounter with a future ruler of France, Napoleon Bonaparte. As events reach their climax, Robespierre is overthrown – shot in the jaw and dragged off to the prison – and the Doctor and his friends slip quietly away.
The Reign of Terror was originally released on VHS in a box set along with The remaining episodes of The Faceless ones and the Web of Fear…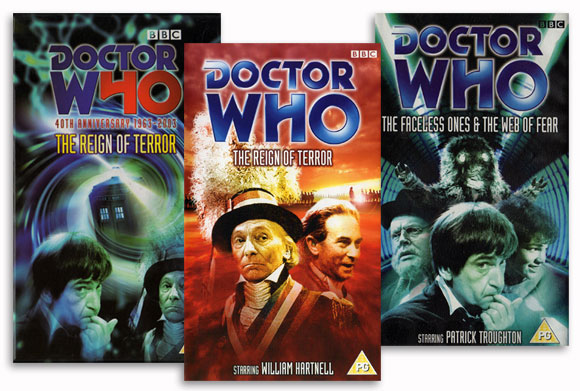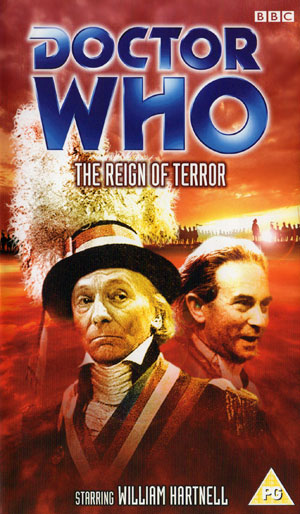 Original VHS cover and information
Whilst trying to return to London in the 1960's, the TARDIS instead takes The Doctor, Ian, Barbara and Susan to France in the eighteenth century.
The travellers realise that they've arrived in the middle of the French revolution – a period in history that saw the French nobility and their supporters overthrown.
Ian, Barbara and Susan are arrested as traitors, and locked in the concierge prison where Ian learns from a dying prisoner about the mysterious spy James Stirling.
Barbara and Susan are sentenced to be executed , but are rescued before arriving at the guillotine.
The Doctor takes on the disguise of a senior revolutionary, and has to outwit Robespierre, the leader of the revolution, in order to try and reunite himself with his companions. But as treachery and .double-dealing abound, who can be trusted…? This story was broadcast on BBC between 8 August 12 September 1964.
This story will have its missing episodes animated. Some test shots are shown below.