Doctor Who: The Sensorites DVD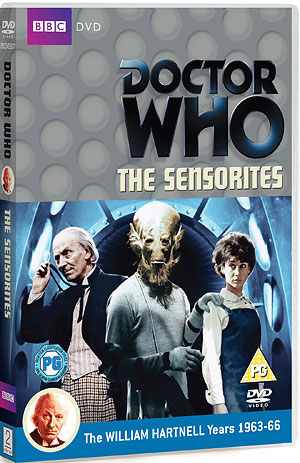 Doctor Who: The Sensorites
Starring: William Hartnell , Jacqueline Hill
The Doctor, Ian, Barbara and Susan land on a spaceship orbiting a distant and mysterious world, where a human crew lies frozen somewhere between life and death.
The TARDIS arrives on board a spaceship in orbit around a planet called the Sense-Sphere.
The alien Sensorites have trapped the ship's human crew, Captain Maitland, Carol and John, in a state of semi-permanent paralysis. When the Doctor investigates, the aliens steal the lock mechanism from the TARDIS, thus trapping him and his companions.
The Sensorites allow all but Maitland and Barbara down to the planet, where Ian falls ill from a sickness that has been wiping out the Sensorites. The Doctor finds a cure. His investigations into the cause of the sickness are hampered by the subversive activities of the City Administrator, but eventually he uncovers three deranged human survivors from a past expedition who have been adding deadly nightshade to the water supply.
• Audio Commentary
• Looking for Peter
• Vision On
• Secret Voices of the Sense Sphere
• Photo Gallery
• PDF materials: Radio Times Listings, original design drawings
• Production Note Subtitles
• Digitally remastered picture and sound quality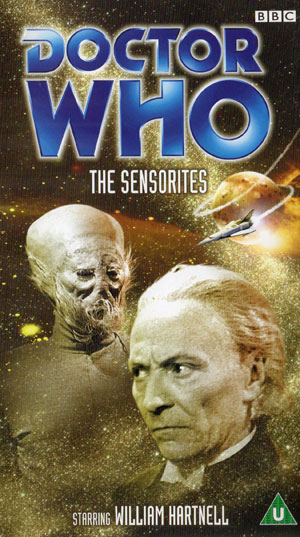 Original VHS cover and information
The TARDIS crew arrive on a seemingly deserted spaceship only too find what appears to be the dead bodies of the ship's original crew.
But the crewrmembers are far from dead – instead they are under some form of mental attack that keeps them prisoners in space.The ship is trapped in orbit around the Sense-Sphere, home world of the alien Sensorites.
The Doctor, Ian, Barbara and Susan are warned to leave, but before, they can do, so, the TARDIS is attacked, and its lock is stolen.
The Sensorites are using their telepathic powers against the human visitors, to their world. And "the TARDIS crew now find themselves helpless captives of the Sensorites, and their mental powers…
This story was broadcast on BBC1 between 20 June-1 August 1964.