The Ambassadors of Death DVD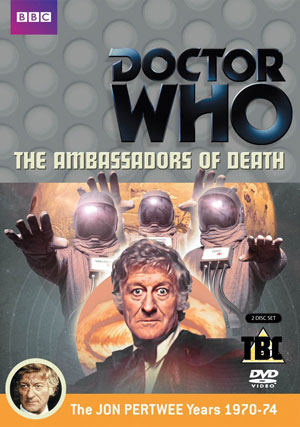 The Ambassadors of Death DVD
Due for release on 01 October 2012.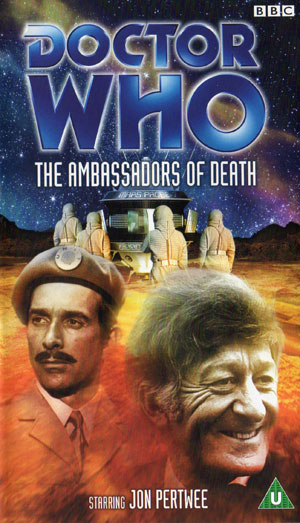 Original VHS cover and information
When all communication is lost from Mars Probe 7 shortly after jt leaves. Mars and begins its trip back to Earth, a second craft is launched to investigate. As' Recovery 7 docks in space, it ,too. loses all communication The Doctor and UNIT are given the task of investigating the mystery, as Recovery 7 returns to Earth.
It appears that no one can be trusted, as the space capsule is hijacked from its UNIT convoy With, military precision. What has happened to the missing astronauts? Could this be a secret-invasion from Mars, -or is the enemy much closer to home?
As the Doctor plans a daring space mission of his own, his assistant Liz Shaw goes missing. Who is working against UNIT in order to bring mankind into conflict with an alien race…? .
A few cost-saving measures were used on 'Ambassadors'. The space:suits worn by the aliens incorporated helmets left over from the 1969 Hammer film 'Moon Zero Two'. To further save costs on the building of the set of 'Recovery 7', it was agreed to share the expense with another BBC series, 'Doomwatch'. The 'Doomwatch' crew filmed their material in the capsule interior first (tilled 'Sunfire One' for their purposes), whilst the 'Doctor Who' team were Mill in rehearsals.
The 'Doomwatch' episode featuring this set 'Re Entry Forbidden' – was screened on BBC! OTI Monday 16th March 1970, some five days prior to episode 1 of 'The Ambassadors of Death' transmission.
Director Michael Ferguson had firs! worked on 'Doctor Who' as a floor assistant on The Dale-Its' (1963). As a director, he was responsible for 'The War Machines' (1966), 'The Seeds of Death' (1969) and 'The Claws of Axos' (1971). Working as floor assistant on this story was John Nathan Turner, who would go on to produce 'Doctor Who' from 1979 – 89.
The day that part 4 of this story was screened on BBCT – Saturday Illh April was also the day that the ill-fated Apollo 13 moonlanding mission launched in America. In the days that followed, the whole world was gripped as NASA tried everything in its power to return the three marooned astronauts safely to Earth.
Their successful return on 17th April the day before part 5 was screened was the cause of worldwide celabration. Eerily, life imitated art, as that week the Doctor was on his own quest to rescue some stranded astronauts.
This story' was originally broadcast on BBC 1 between 21stMarch -2nd May 1970.