Abbyshot 12th Doctor's Black Velvet Coat
Available to order from www.abbyshot.com
Please note screen prices do not include VAT but these coats are shipped to the UK within Europe so there are NO import costs and charges.
Be one of the luckiest creatures in all of time and space wearing your nothing but the best (Made in Britain) Twelfth Doctor's Black Velvet Frock Coat!
Officially licensed by Doctor Who
Manufactured in Britain by Private White V.C.
Made with the softest, most luxurious Italian black velvet
Quality lining color matched from original fabric
Two inside pockets + a secret pocket seen in original coat!
Replica buttons and extra long buttonholes
Whether you'd like to top up a stylish outfit or sport a more casual look, the Twelfth Doctor's Black Velvet Frock Coat will do both! Made for us by over a century old British manufacturer, only the finest yarns, trims, materials and techniques are used.
Handcrafted using the softest, most luxurious 100% Italian cotton velvet, this single breasted Victorian coat instantly states style and comfort at the same time, making you feel extraordinary (and maybe a little more strange and alien than you've felt in awhile)!
You'll find this version pays particular attention to detail, as witnessed on the original coat in Doctor Who. From the collar to the back vent, the Twelfth Doctor's Black Velvet Frock Coat is filled with surprises!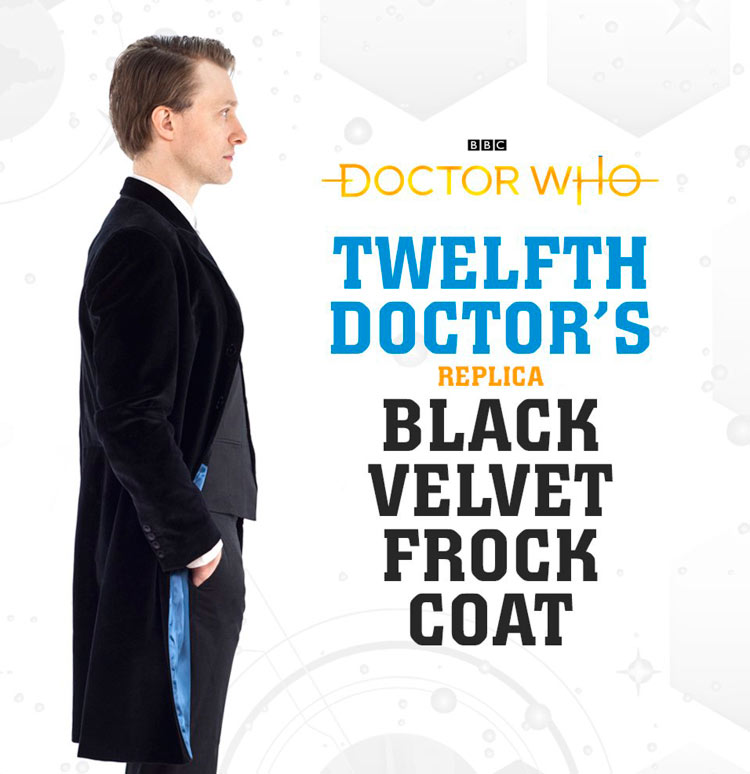 This minimalist period piece has a smooth front, devoid of seams or pockets of any kind, while the back has princess seams which give the coat fit, fullness and flare. Yet the flair doesn't stop there! There are three custom buttons on the front and four on each sleeve. Inside the coat you'll find set into the blue lining, two welted pockets (one for sunglasses and one for a Sonic Screwdriver perhaps)! Even more enticing is the color matched lining and how it's sewn into the coat, close to the edge like a rebel Time Lord.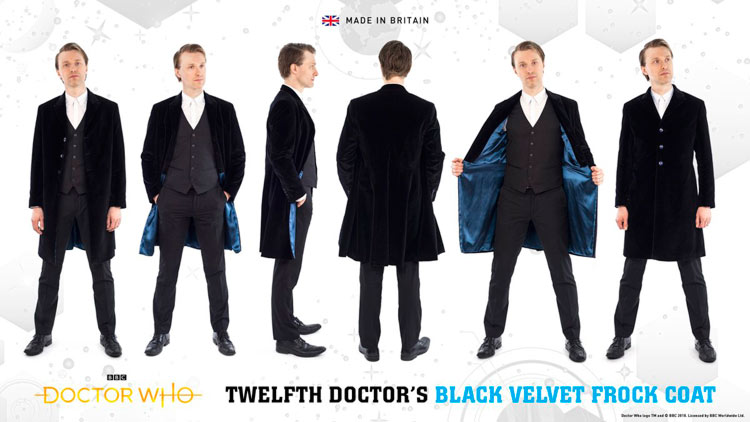 But wait! There's an extra surprise found within the lining of the coat…a third pocket…just like that found in the original! Did you know that? Smile! This little black pocket was used to hold the neodymium magnet in Series 10, Episode 2 securing the magnetic emoji badge on the outside of the Doctor's coat!
Each one of these details was carefully thought out to mirror the Doctor's magical personality. Try on your Twelfth Doctor's Black Velvet Coat. Once you slip your arm through the sleeve, you'll know how it feels to be alive for 2000 years…unforgettable! It's a coat fit for a hero!
Please note that due to licensing restrictions AbbyShot can only ship this product to the following countries: Canada, U.S.A., U.K., Ireland, Australia, New Zealand, Africa, Middle East, and continental Europe!