Toy Trust Auction Character Building Super Rare Sets
Character Building Super Rare Sets 1 and 2
To go to the Toy Trust Auction click Here
Character Options is gifting two collector's items that would be top of the wish list for any avid Doctor Who fan!
Within each series of the Character Building Doctor Who Micro figure collections were a limited number of 5 super rare figures. Our extra special auction lot is an extremely limited presentation case that contain all five super rare figures from series 1.
To find these figures at random through purchasing micro figure foil bags would be a colossal task! So have the chance to own all five figures plus a special certificate of authenticity from the makers is something not to be missed.
Out of millions of figures available, there are just 1 in every 1000 of the Projected Weeping Angel and the Raggedy Doctor as he appeared in his Series 5 Episode 1. But most sought after all will be Amy Pond in a Green Coat, the mysterious Silurian Alaya and The Eleventh Doctor in his Kings Arms Football Kit with only 1 in every 5000 being these highly collectable pieces.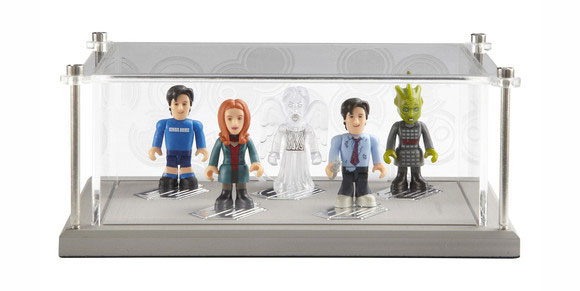 This collections boasts one of the most desirable figures; it's the Eleventh Doctor unshaven and in a straightjacket with just 100 pieces to be found, some of which are passing hands on eBay at over 60 times its face value! Only 500 of the fans new favourite; Hologram Silent and River Song were ever manufactured, whilst just 250 each have been made of the recently departed Rory Williams as the Last Centurion and Amy Pond in a Pirate Costume.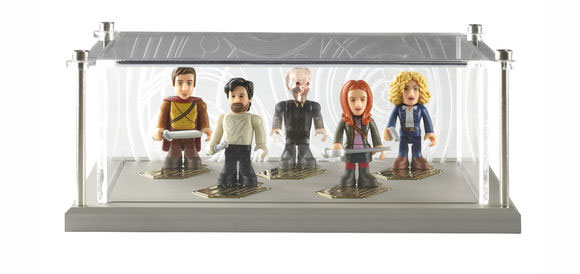 These exclusive sets of rare Doctor Who figures has been kindly donated by Character Options (Official Doctor Who toy Licence holder) to the Toy Trust Charity as part of a unique 'Money Can't Buy' Auction – a fundraising initiative in celebration of the charity's 20th anniversary.

About the Toy Trust…
"Founded by the British Toy and Hobby Association, the Toy Trust is the toy industry's charity and exists to raise money from the toy industry, its suppliers and friends. The money is distributed to young disadvantaged and disabled children's charities within the UK and abroad. The Toy Trust funds help disadvantaged children and their families to alleviate suffering, encourage achievement through adversity, purchase vital equipment, provide care, and provide emergency aid in a crisis involving children. This year the toy trust aims to pass the £3 million mark in money raised since its inception with the help of the many supporters of the trust, from across the entire industry."