Bradford Exchange Doctor Who Ladies' Tardis Ring
Available to order from www.amazon.co.uk (Different listings for ring sizes)
Also available to order fromwww.bradford.co.uk
A unique and officially licensed Doctor Who topaz and gold-plated ladies' ring, exclusive to The Bradford Exchange – 'True Companion' – an expression of your unwavering support and love to the end of all time!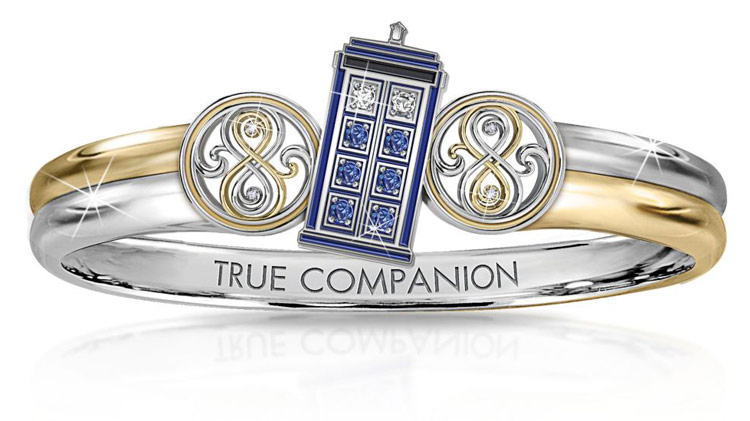 Now you can share this heartfelt sentiment with your very own special companion. The officially licensed Doctor Who Ladies' TARDIS Ring is a stylish piece of jewellery, exclusively available from The Bradford Exchange. Showcasing twin bands of sterling silver – one with rich 18-carat gold-plating – engraved on the interior, the handcrafted ring depicts a blue enamelled TARDIS design, accented with eight genuine blue and white gemstones.
Two Seals of Rassilon glimmer. This elegant ring is accompanied by a Certificate of Authenticity and our 120-day guarantee. It even arrives in a custom-designed presentation case – perfect for safekeeping or gift-giving. Tremendous demand is expected for this unique Doctor Who Ladies' TARDIS Ring, so don't wait. Order now!