B&M 2021 September Stocks Arrive – Information on Product Codes / Barcodes
Stocks have now arrived and are starting to appear in stores.
We have closed comments on all other B&M posts so they can be concentrated here.
At the time of writing option 3 on published store telephone numbers that allowed you to speak to a member of staff has been removed. You could try the main customer service number, 0330 838 9000 and ask to be put through to your local store or try and find out its direct number.
Shown below are the product codes and bar codes. The app is not allowing you check locations at this time.
We strongly advise you make whatever checks you can yourself to check store availability before traveling.
To find your nearest store visit www.bmstores.co.uk or use the map below. Please contact www.bmstores.co.uk if you require more information.
The B&M Map:
This map is a guide only and shouldn't be used as a definite indication that a particular store has stock
The map shows most stores, if you see any missing please leave a comment. As the app will not allow you to check stock locations at the moment we may use this map to show the distribution pattern and possible stock locations.
If you see stock and take a picture you can send it to [email protected] and we can add it to the map or you can link to an image you are hosting yourself.
This map has layers, if you click on the icon in the blue header at the top left of the map in the you can select which layers you want to see.
A Dalek will be placed to the right of the store concerned but you will need to zoom in to separate the 2 or click off the store location layer.
Please note as the situation on the shop floor is so fluid we will no longer list stock on the map. As far as we can tell the initial delivery for stores that have had stock was for 12 of each figure set and 6 of each Dalek. As you might expect most stores are selling out of Daleks at a faster rate than the sets. Some stores listed have already sold out of all stock
B&M 2021 The Keys of Marinus collector figure set. Product Code 370537.
You can search for the lowest price for this set on www.amazon.co.uk or www.ebay.co.uk
From a classic episode of 1964 is The Keys of Marinus Collector Figure three figure Set. This Ian Chesterton Action Figure depicts one of The Doctors very first companions and is accompanied by not one but two Voord Warrior Action Figures with dagger accessory.



B&M 2021 The Sensorites (1964) collector figure set. Product Code 370538.
You can search for the lowest price for this set on www.amazon.co.uk or www.ebay.co.uk
This Doctor Who Collectors set is a must have for all Doctor Who fans and collectors and includes a trio of detailed Doctor Who figures from the classic 1964 episode 'The Sensorites'.

History of The Daleks #5 Power of the Daleks. Product Code 370539. (Sets 5 and 7 have the same code).
You can search for History of The Daleks Sets on www.ebay.co.uk
The Doctor Who Daleks' Collector Sets have their very own fan base and to mix things up a little the next two sets are slightly out of order to give a more varied on shelf presence. The Power of the Daleks Set, comprising of two highly detailed Daleks – The Silver Drone Dalek and Drone with Mutant Scoop Dalek.

History of The Daleks #7 Day of the Daleks. Product Code 370539. (Sets 5 and 7 have the same code).
You can search for the lowest price for this set on www.ebay.co.uk
Finally, we jump one story forwards to the next decade to 1972's 'Day of the Daleks' and The Daleks' first foray into colour TV with Collector Set #7 which celebrates this four part story first shown in January of that year.

---
Our own images of the box and figures in the Sensorites set…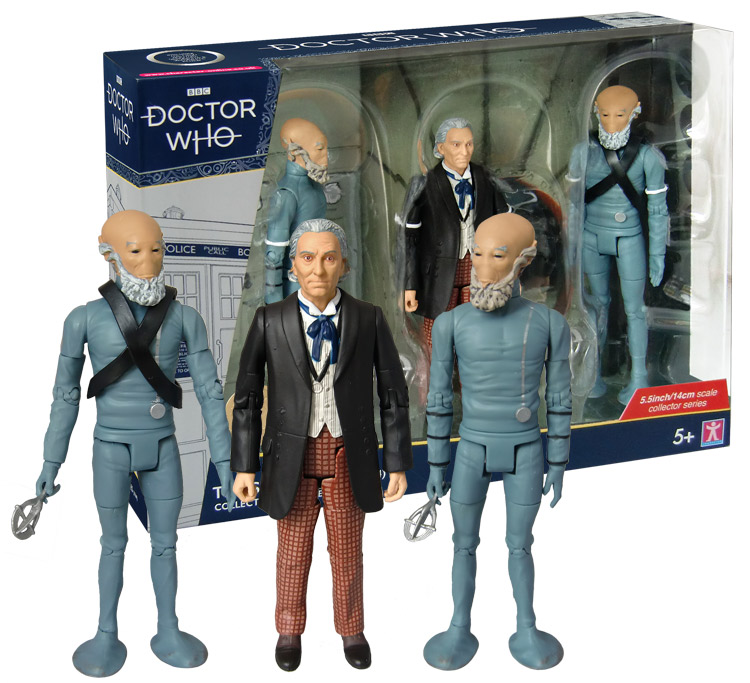 The First Doctor on the left from this set and the First Doctor from the 13 Doctors set on the right showing the different variations in costume…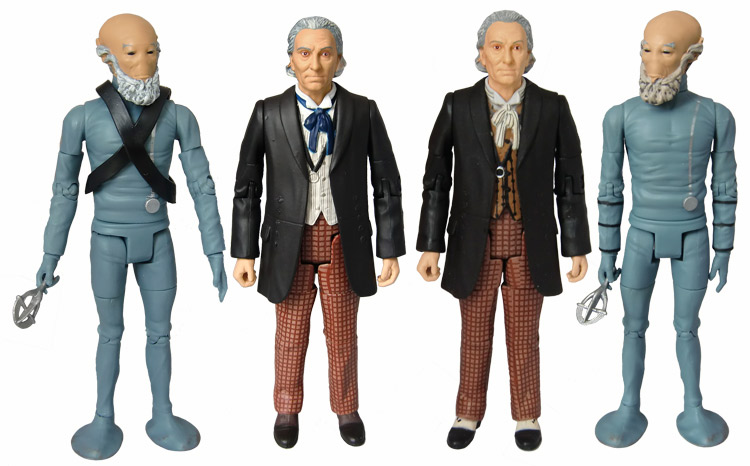 Please note in future comments will be restricted to stock locations reports only and all comments will be on moderation for a while.